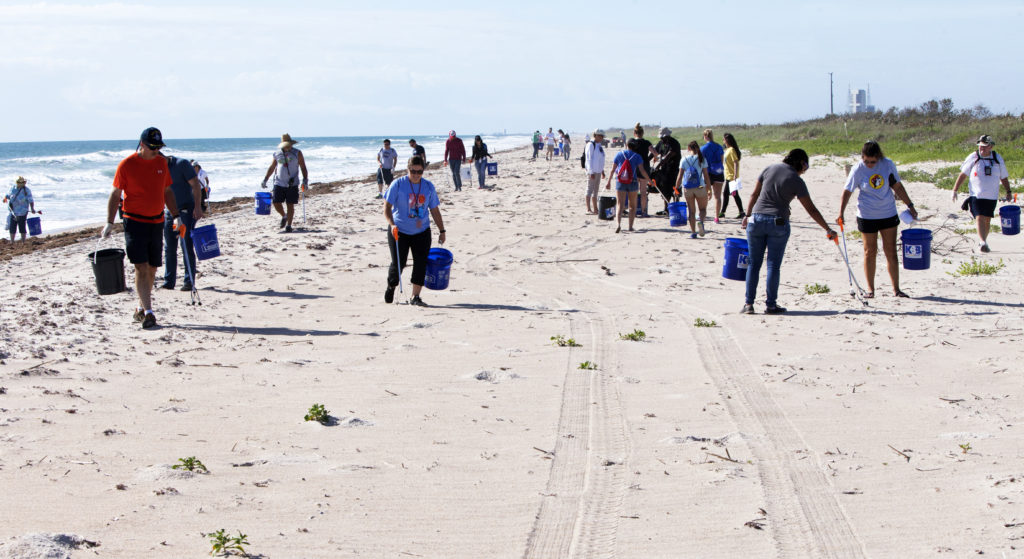 About 50 employees picked up 20 bags of trash and large debris along the shoreline of NASA's Kennedy Space Center during a beach cleanup in preparation of the upcoming sea turtle-nesting season.
Led by the center's Employee Resource Groups, the participants met at the Beach House, worked about an hour and covered approximately two miles in their efforts. Of the 72 miles of beach that form the eastern boundary of Brevard County, about six of those miles line Kennedy.
Unlike what might be found along a public beach, all of the debris that litters Kennedy's restricted beaches washes ashore after being discarded at sea. So before the group started, Kennedy's Hazardous Materials team swept the beach to take care of any dangerous/suspicious items. They also stayed with the group through the entire cleanup on ATVs and responded quickly to potentially dangerous items the group found.
Along with cleaning the beach, the group's team-building effort included attracting a diverse group of Kennedy workers to come together and make a positive impact on Kennedy. With sea turtle-nesting season beginning in about a month, the group deemed the timing ideal. The beach looked completely transformed after the cleanup, said some of those taking part in the effort.
With Kennedy's shoreline being part of the top nesting area in the Western Hemisphere for loggerhead sea turtles, wildlife agencies consider it important to remove trash and debris along the coast whenever possible.
"We're hoping those sea turtles can have a safer nesting season with the newly clean beach," said Pri Thakrar, an engineer at Kennedy. "It was a beautiful day and we got a lot of positive feedback from the participants."
Thakrar, along with engineer and co-organizer Megan Yohpe, hope to make this a regular event.