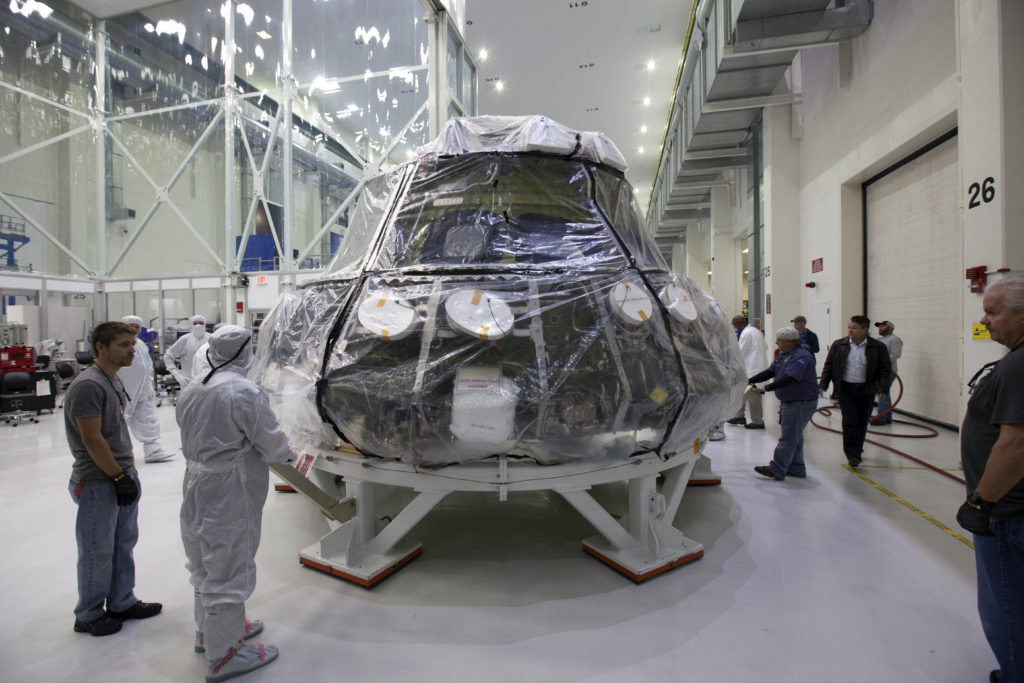 Work continues to prepare NASA's Orion crew module for its first integrated flight atop the Space Launch System rocket. The crew module was moved from a clean room to a work station inside the Neil Armstrong Operations and Checkout Building high bay at the agency's Kennedy Space Center in Florida to prepare for the next additions to the spacecraft.
In the clean room, engineers and technicians completed the welding of the tanks to the propulsion and environmental control/life support systems (ECLSS) tubing. They also completed welding to install the propellant, pressurant and post-landing coolant tanks. The pressurant is used to maintain the flow of propellant and coolant in the propulsion and ECLSS systems, respectively.
Now secured in a work station, Orion will undergo additional processing to prepare it for launch in 2019. The crew module up-righting system, comprised of five up-righting bag assemblies, each with an inflation gas assembly, will be installed in the crew module's forward bay. The up-righting bags are inflated after the crew module splashes down in the ocean and will turn the spacecraft upright if external forces cause it to roll over. The three main parachute assemblies also will be installed in the forward bay.
Orion's crew module will be populated with avionics components, including control systems and communication and data units. Flight wire harnesses, which distribute power and data among the spacecraft's systems, will be routed throughout the crew module's forward bay, crew cabin and aft- and mid-bays.
The first flight of SLS and Orion will send the spacecraft beyond the moon before Orion returns to Earth and splashes down in the Pacific Ocean. The mission will demonstrate the integrated performance of the SLS rocket, Orion and ground support teams before a flight with crew in the early 2020s.
Photo credit: NASA/Leif Heimbold