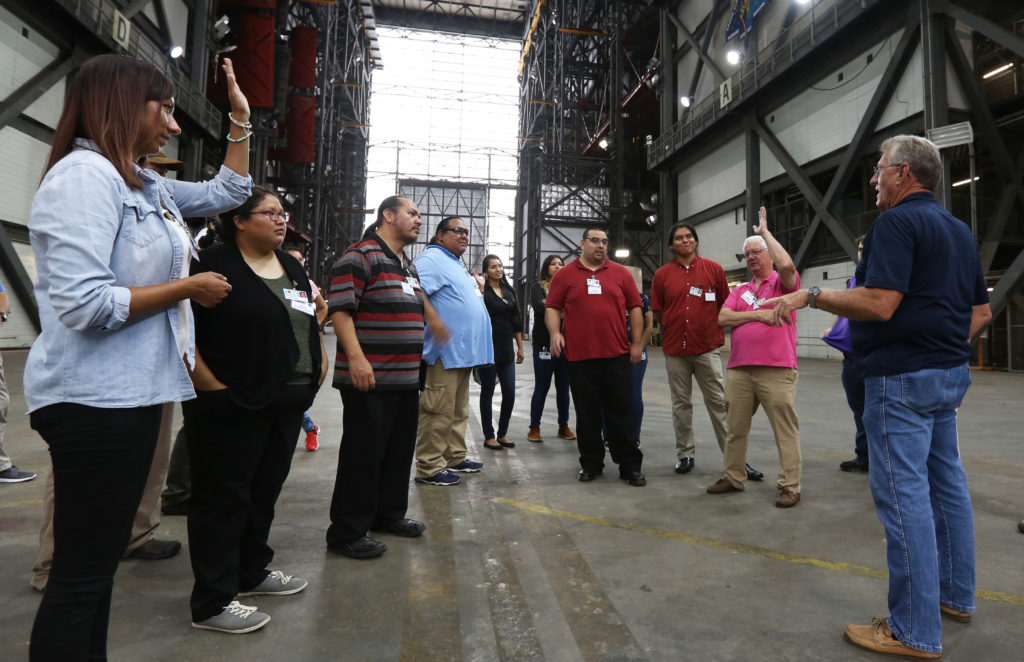 A group of 15 college students recently visited NASA's Kennedy Space Center as winners of the First Nations Launch competition in Wisconsin. They were part of teams that successfully flew high-powered rockets, earning them an opportunity to visit the Florida spaceport.
The competition is supported by NASA and the Wisconsin Space Grant Consortium. It provides an opportunity for students attending tribal colleges and universities or who are members of a campus American Indian Science and Engineering Society, or AISES, chapter to design, build and launch a rocket at a competition in Kansasville, Wisconsin.
"The project has been ongoing for nine years," said Rob Cannon, a project specialist in Kennedy's Education Office who serves as activity manager for the visit of the First Nations Launch Competition. "NASA began supporting it starting with the second year."
During the students' visit to Kennedy, they toured the Vehicle Assembly Building, Launch Control Center, Swamp Works, Kennedy Prototype Shop, Cryogenics Lab and the visitor complex. They also were given the opportunity to participate in a panel discussion on career opportunities with NASA, contractors or other areas of the aerospace industry.
Christian Cultee participated as a student at Northwest Indian College established by the Lummi Nation in Bellingham, Washington. He noted that his visit was one he would not soon forget.
"Every stop of our tour made me even more eager to see where they would bring us next," he said. "We extend our appreciation to the employees who took time out of their busy schedules to share with us their experience at Kennedy. We would like them to know that their impact on us was much larger than they'll ever know."
While competitors usually are majoring in engineering disciplines, Cannon noted that that's not always the case.
"There was one team that was made up entirely of nursing students," he said. "While it may help to be majoring in a technical field, the competition is open to any student interested in building a rocket and is attending a tribal college or a member of an AISES chapter."
There are two annual challenges students may choose to enter. In this year's Tribal Challenge, a rocket is launched and is judged on its stability using a small onboard camera. In the AISES Challenge, student teams from AISES chapters design, build and launch a rocket that will be able to provide an active drag system integrated into the rocket by means of a mechanical device. The goal is to attain an altitude of exactly 75 percent of the nondeployed drag system to the altitude of the first launch.
Photo credit: NASA/Cory Huston