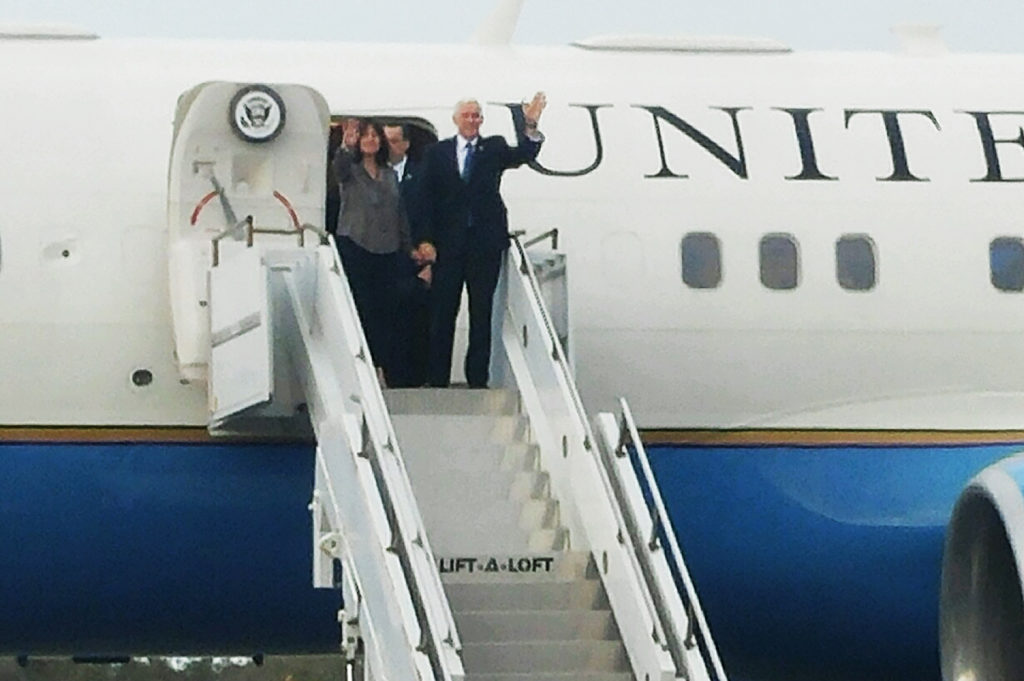 Vice President Mike Pence, accompanied by his wife, Karen, returned to NASA's Kennedy Space Center in Florida on Feb. 20, this time to chair a meeting of the recently re-established National Space Council.
During his first Kennedy visit on July 6, 2017, Pence spoke to center employees and toured numerous facilities supporting ongoing work at the premier, multi-user spaceport. After his arrival today, Vice President Pence will tour facilities at both Kennedy and Cape Canaveral Air Force Station. He also plans to participate in a commercial spaceflight federal reception.
The primary focus for the vice president's trip will be the second meeting of the National Space Council set to take place in the high bay of the center's Space Station Processing Facility. The event's theme is "Moon, Mars and Worlds Beyond: Winning the Next Frontier" and is slated to include testimonials from leaders in the civil, commercial and national security sectors about the importance of the United States' space enterprise.
The National Space Council's role is to advise the president on America's space policy and strategy, and review the nation's long-range goals for space activities. The council includes leaders in government from both civil and military space programs.
The council's historic roots go back to the earliest days of NASA when the agency was established in 1958. Through 1973 it was known as the National Aeronautics and Space Council. From 1989 to 1993 the group was the National Space Council, guiding NASA and helping achieve the agency's ambitious milestones.
On June 30, 2017, President Donald Trump signed an executive order re-establishing the National Space Council to streamline and coordinate national space policy.
The first meeting of the new National Space Council took place Oct. 5, 2017, at the Smithsonian National Air and Space Museum's Steven F. Udvar-Hazy Center in Chantilly, Virginia. Afterward, acting NASA Administrator Robert Lightfoot praised the vice president for calling for renewed U.S. leadership in space with NASA helping lead and shape the way forward.
Photo credit: NASA/Stephanie Martin