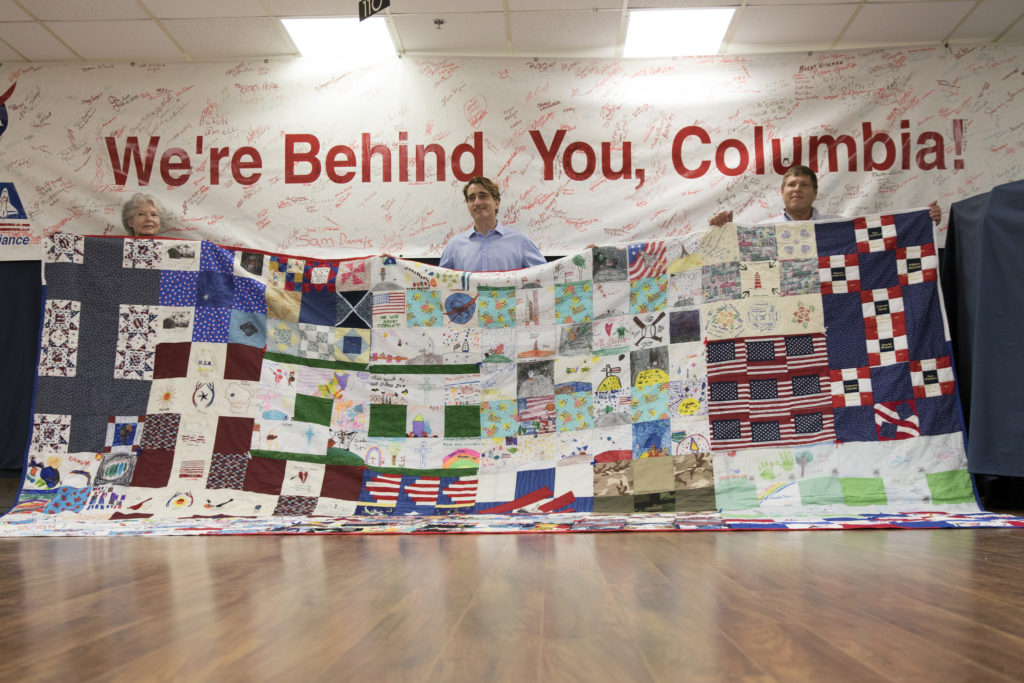 A memorial quilt commemorating Columbia and the seven crew members of STS-107 has been officially turned over for display in the Columbia Preservation Room inside the Vehicle Assembly Building at NASA's Kennedy Space Center in Florida.
The quilt was received by Mike Ciannilli, the Apollo, Challenger, Columbia Lessons Learned Program (ACCLLP) manager. Janet Phillips, property custodian in Kennedy's Office of Procurement, presented the quilt, along with a certificate, during the turnover ceremony. Both will be preserved and added to NASA's collection of more than 80,000 artifacts in the Columbia Preservation Room.
"Art often can be used to powerfully convey emotion," Ciannilli said. "This quilt, this work of art, does just that. It shares the pain, support and comfort of the American people for our nation's loss of Columbia and her heroic crew."
The 10-by16-foot quilt was designed by Katherine Walsh, originally from Kentucky, now residing in Dover, New Jersey. Walsh is a lifelong fan of NASA and the space program. After space shuttle Columbia and the crew were lost, she had an idea to create the quilt. Beginning in early February 2003, she sent out requests to the quilting community to create and send her quilt squares. By May, she had received fabric donations from adults and children in 13 states.
Walsh worked on the quilt for seven months. During a family vacation to Florida, she handed over the finished quilt at the Kennedy Space Center Visitor Complex on Oct. 8, 2003. The quilt made its way to the center. Phillips recently located it and worked to get it transferred from the Office of Procurement to the Columbia Preservation Room.
"I am thrilled to know that all of my research and perseverance paid off with the culmination of the Columbia Preservation Room transfer ceremony," Phillips said. "We've preserved history, not just for Kennedy, but for the entire agency and the nation."