Students in Florida asked questions of NASA scientists on the ground and astronauts on the International Space Station to learn more about how the agency is pioneering the cultivation of plants in space to supplement astronaut diets with fresh, nutritious food. These students have directly bolstered researchers' knowledge in the field of space plant science by participating in the Growing Beyond Earth part of The Fairchild Challenge, which has promoted education focused on science, technology, engineering and mathematics (STEM) by engaging students to test more than 100 varieties of edible plants during the past three years for their potential viability on the space station.
Astronauts on the orbiting laboratory use the Vegetable Production System, known as Veggie, to study plants. These experiments also have a practical side. Not only do the plants augment the astronauts' diet with fresh food, according to astronauts, tending the crops is a source of enjoyment and a little piece of home for the crew.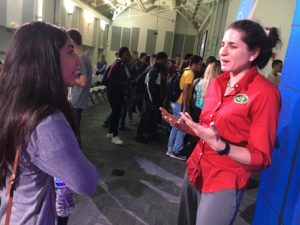 Hundreds of high school students from eight schools in central Florida came to the Kennedy Space Center Visitor Complex where NASA treated them to a presentation by Gioia Massa, a life sciences project scientist at the agency's Kennedy Space Center, and Trent Smith, Veggie project manager, along with university students who are interns at NASA also working on growing plants for space. The high school students then had the opportunity to ask the team questions, which covered topics as diverse as using Martian soil for growing plants, to the viability of growing trees in space.
As he answered questions, Smith said working with 150 schools nationwide through The Fairchild Challenge was a tremendous benefit to NASA. Students have identified several strong candidate crops including extra dwarf pak choi and dragoon lettuce, which are undergoing final testing to determine if they are suitable for space.
"I hope to send them up in a resupply spacecraft very soon, giving astronauts new selections to grow and eat in space," Smith said.
Massa told the crowd that The Fairchild Challenge participants had not only evaluated other promising plant varieties including Shungiku, an edible Chrysanthemum, but they had also tested horticultural techniques like cut-and-come-again which is a repetitive harvest that can increase overall food yield. She said the entire program was "a wonderful collaboration" between NASA and students.
Attention then shifted to South Florida as hundreds of Miami students who had participated in the Growing Beyond Earth portion of the Fairchild Challenge visited the Fairchild Tropical Botanic Garden for a live downlink with crew members aboard the space station.
As part of their Year of Education on Station activities, astronauts Ricky Arnold and Drew Feustel fielded questions from the students and talked about some of the challenges of living in microgravity and trying to grow space plants.
Students including Ashton Santos from Colonial High School in Orlando expressed excitement for being able to come to the visitor complex and learning directly from the people behind the science. "This experience was really valuable to me, and it really piqued my interest about agriculture in space," Santos said. "I hope that I can find out more, and maybe I can be one of the interns there," he added.
Camile Mason, another Colonial High School student, had the opportunity to ask the Veggie team a question and said the visit was an exciting experience. "It was very insightful," Mason said. "It was very interesting learning about how scientists developed and changed the way we can look at agriculture even here on Earth, and how we can study and mimic conditions out in space, here."
Written by Leejay Lockhart