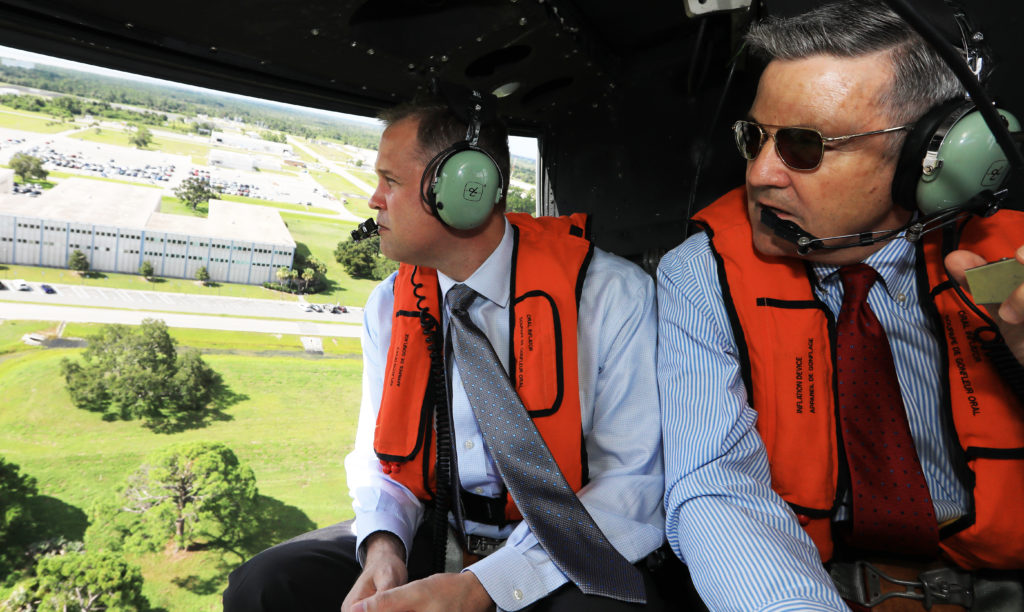 NASA Administrator Jim Bridenstine made his first official visit to the agency's Kennedy Space Center on Aug. 6 and 7 for an up-close look at the premier, multi-user spaceport.
Bridenstine's visit began with Center Director Bob Cabana giving the administrator a helicopter tour of the bustling Florida spaceport.
During an all hands meeting for Bridenstine to speak with employees, Cabana commented on the spaceport's shift.
"The transition that you all have made in the last seven years since (space shuttle) Atlantis made its final fight has been nothing short of phenomenal," he said. "I've had the privilege the past two days to share the work that you all have accomplished with our new NASA administrator, who is passionate about what we do."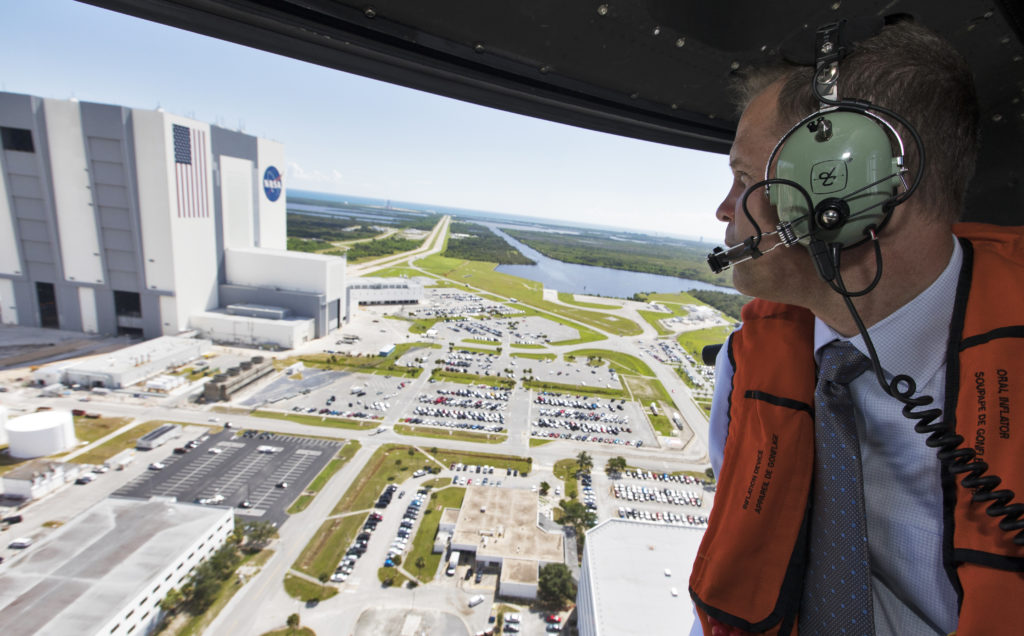 Bridenstine also thanked Kennedy employees for their part in the recent changes.
"You have transitioned splendidly," Bridenstine said. "When you look at how Kennedy has handled the challenge and how you have turned this into a multi-user spaceport with commercial and other partners, I'm inspired and in awe."
For nearly half a century, Kennedy operated as a NASA-only space center. As the Space Shuttle Program came to an end, Kennedy began preparing to support NASA's Space Launch System (SLS) rocket and Orion spacecraft. Anticipation of an emerging commercial space industry resulted in center leadership developing an innovative concept of a multi-user spaceport to change focus from a big government, NASA-only space center to the agency partnering with other organizations.
The administrator also spoke of the crucial role NASA plays in everyday life around the globe.
"Space is important to our everyday lives," he said. "Look at how space has transformed all of our lives. You look at the way we communicate, the way we navigate, the way we produce food, the way we produce energy, the way we do disaster relief in this country and the world, the way we provide national security and defense, every person in our country and every human on the planet has benefited from what NASA has done."
In addition to touring Kennedy facilities, Bridenstine participated in an Industry Roundtable hosted by the Economic Development Commission of Florida's Space Coast and Space Florida. He later met with members of the news media in the center's Space Florida's Space Life Sciences Lab facility.