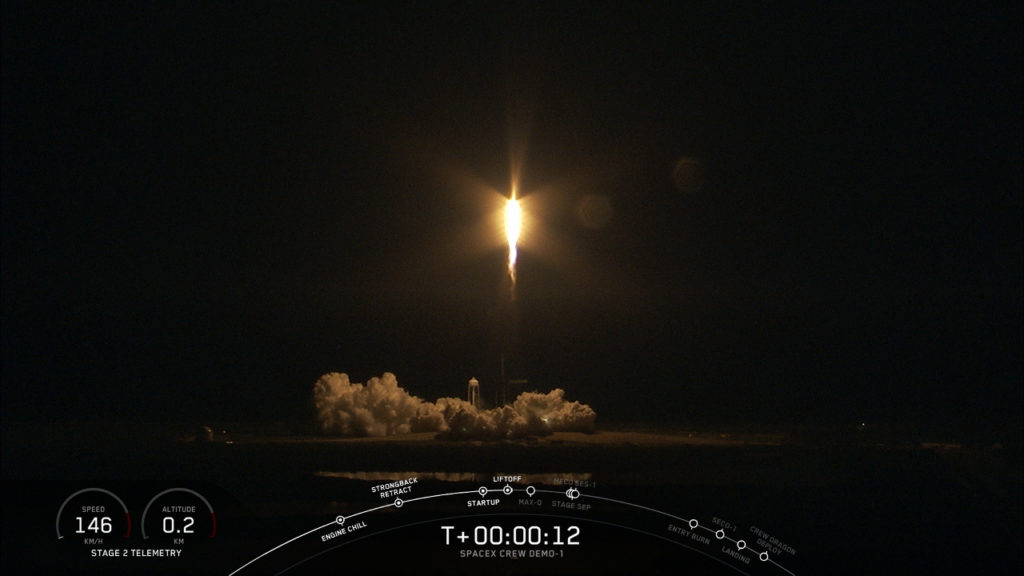 The Demo-1 uncrewed flight test to the International Space Station, SpaceX's inaugural flight with NASA's Commercial Crew Program, is underway following the successful launch Saturday morning of the company's Falcon 9 rocket and Crew Dragon spacecraft. The first-of-its-kind mission, planned to be a full demonstration of the spacecraft and its systems, launched on time at 2:49 a.m. EST from Launch Complex 39A at the agency's Kennedy Space Center in
In addition to 400 pounds of supplies and equipment, Crew Dragon is carrying Ripley, an anthropomorphic test device outfitted with sensors to gather important data about what an astronaut flying aboard the spacecraft would experience throughout the mission.
Crew Dragon will carry out a series of phasing maneuvers as it pursues the space station during approach. The spacecraft is scheduled to autonomously dock with the orbiting laboratory tomorrow morning, March 3, at about 6 a.m. EST, and remain docked until approximately 2:30 a.m. on Friday, March 8. Crew Dragon is expected to return to Earth with a splashdown in the Atlantic Ocean at approximately 8:45 a.m., a little more than six hours after departing the space station.