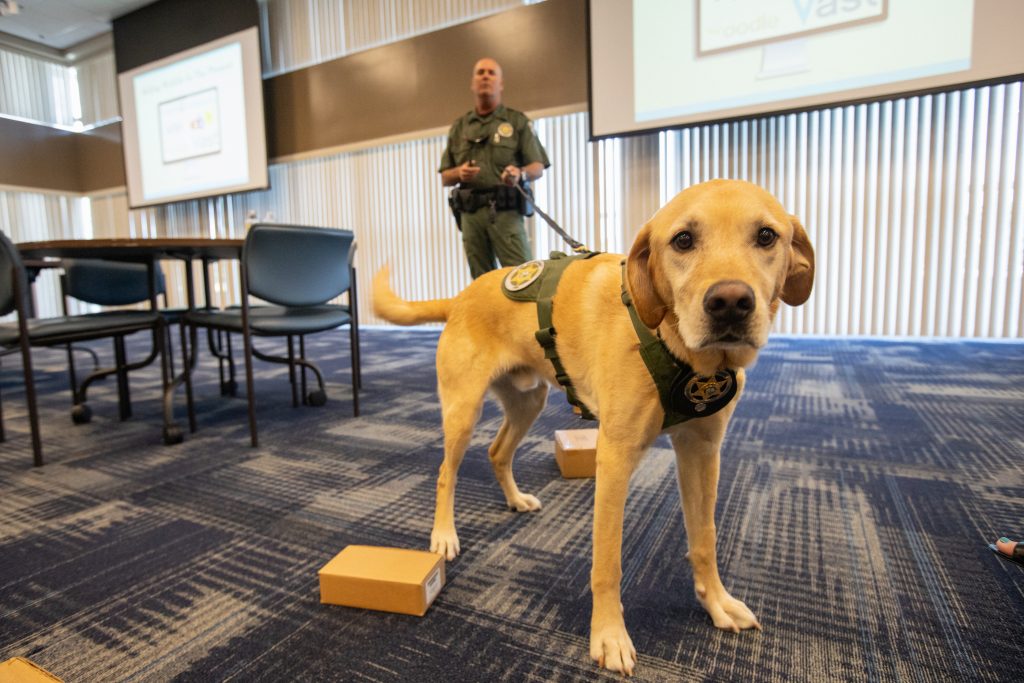 Two lunch and learns, held April 23 and April 24 in support of Earth Day, provided Kennedy Space Center employees with the opportunity to learn more about wildlife and protecting our planet's natural environment.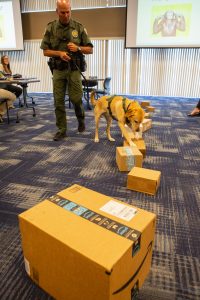 Fish and Wildlife Conservation Commission (FWC) Officer Jeff Sidor brought a K9, Harry, for a demonstration on how FWC is using specially trained dogs in airports, seaports and mail facilities to detect illegal and invasive fish and wildlife species shipping into Florida. Since the program's inception in 2012, it has now grown to include 12 investigators and five canines.
Canine Harry went through about an 18-week training program in which he learned to detect six different odors. He can alert on saltwater, conch, lobster, reptiles, red snapper filets and ivory, and he has been a part of the program for three-and-a-half years.
Officer Sidor has three years left in the program before he plans to retire with Harry. "It's the best thing that I've done," he said. "It's amazing. The dog is awesome, and we're going to retire together."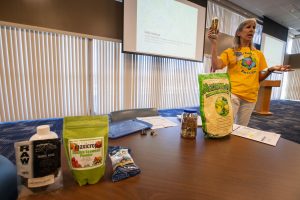 Also available for employees was a presentation on Florida-friendly landscaping. Sally Scalera, urban horticulture agent and master gardener coordinator from the University of Florida's Institute of Food and Agricultural Sciences Brevard Extension Office, shared some sustainable tips and tricks for a healthy yard and garden.
The first step is ensuring your soil is healthy, which in turn will help with water quality and produce healthy plants. Scalera covered multiple ways to increase soil health, including utilizing organic yard matter – such as leaves, twigs and grass clippings – as an alternative to purchasing compost, growing a variety of plants together for the different root systems to provide food for the soil, and using organic fertilizer as much as possible, among others.
Integrating sustainable landscaping practices and choosing the right plants for Florida's environment can help protect our water resources from pollution, reduce overall water consumption and decrease the amount of fertilizer and pesticides needed for plant life to thrive.
The presentations held at Kennedy further promoted environmental awareness at the Florida spaceport and educated employees on a number of changes we can apply to further protect our home planet.