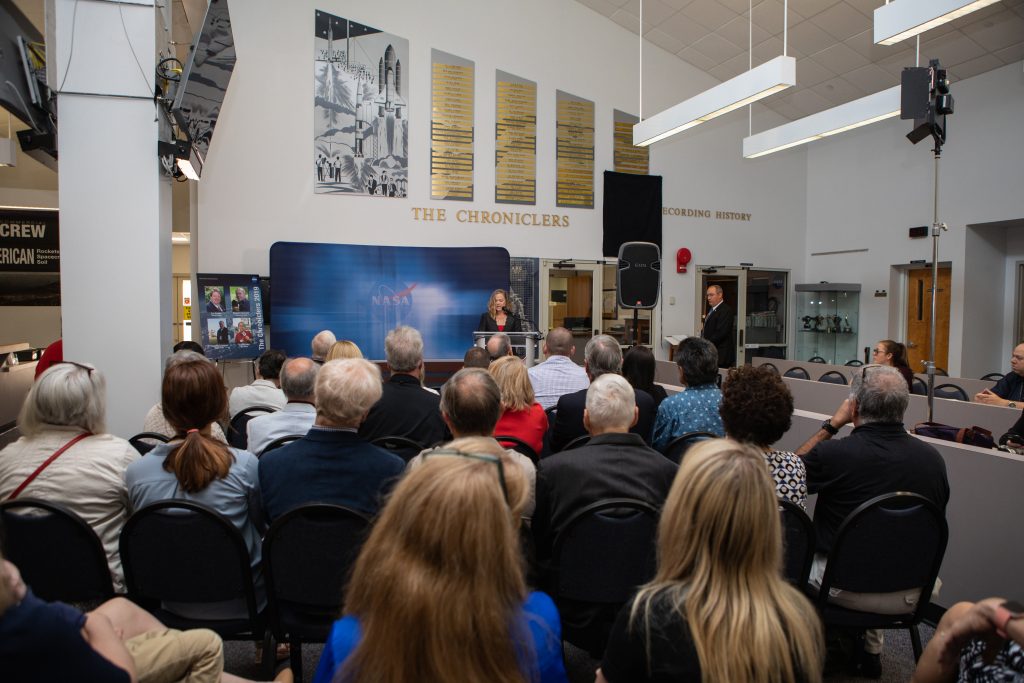 By Danielle Sempsrott
NASA's Kennedy Space Center
Four honorees were distinguished as "Chroniclers" during a ceremony May 3, 2019, at Kennedy Space Center's NASA News Center in Florida among their families and friends, space journalists, and current and former NASA officials.
Jim Banke, Todd Halvorson, Vic Ratner and Peter Cosgrove were recognized for their roles in helping spread the news of American space exploration from Kennedy. To be considered for The Chroniclers, retirees of the news and communications business must have worked in the field for 10 years or more. The group of four was chosen by their peers on March 25.
"These men inspired the world," said NASA Public Affairs Officer Greg Harland. "These men were the voice of the Kennedy Space Center and the history of space launch. And that's no easy feat."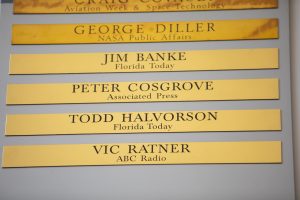 A former journalist with Florida Today, Banke spent more than 20 years covering NASA launches and missions from Kennedy and Cape Canaveral Air Force Station (CCAFS). He was the co-creator of Florida Today's online space news site, Space.com – the first newspaper website dedicated solely to publishing real-time space news. Banke remains active in the local space community and currently works as a contractor at NASA Headquarters in Washington, D.C.
Halvorson retired as the senior aerospace reporter with Florida Today and Kennedy Bureau Chief in 2013 after reporting space news for more than three decades. During his career, he chronicled 108 space shuttle missions and the journey of the Hubble Space Telescope. Halvorson also is a member of the U.S. Astronaut Hall of Fame Selection Committee.
Ratner covered the space program for ABC Radio, providing coverage ranging from the early days of Gemini and the Apollo Moon landings to the last space shuttle mission. He was the only radio correspondent on the air live during the Space Shuttle Challenger accident, delivering on-the-scene information for over five hours that day after the tragedy. Some of Ratner's reports also were seen on ABC TV "World News Tonight" and "Good Morning America."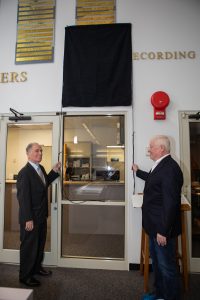 Cosgrove's photojournalism career spanned nearly 50 years for the Associated Press. He covered four Apollo Moon mission crew recoveries at sea and was aboard the recovery ship when the first astronauts to walk on the Moon were picked up after their return to Earth. He also covered both Challenger and Columbia shuttle tragedies.
Cosgrove retired in 2005 and passed away in 2019. His award was accepted by his three children on his behalf, and his granddaughter, Amanda, shared some remarks. "We know how honored he would feel being given this award, as we are honored to be able to accept it for him," she said. "This is a memory that my family and I will treasure for a lifetime."
Brass strips engraved with the name of each honoree were added to The Chroniclers wall on display in the news center and unveiled during the ceremony. The addition of Banke, Halvorson, Ratner and Cosgrove bring the total number of Chroniclers to 80.