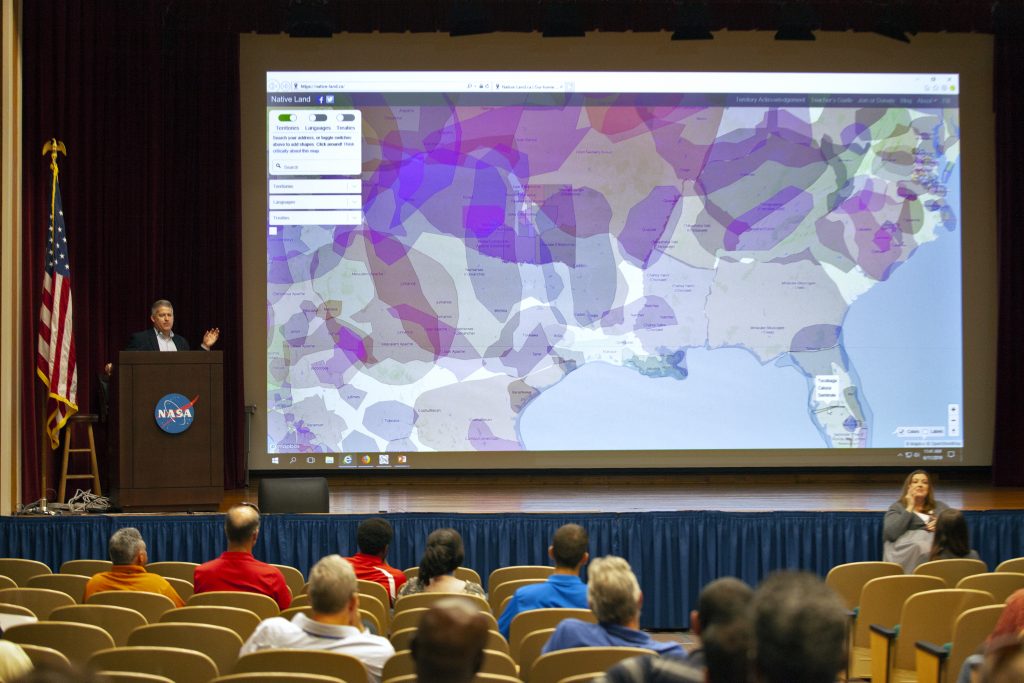 Native Americans in Florida have been largely affected by world events, but they also played an important role in influencing the outcomes of the world. Kennedy Space Center employees had the opportunity to attend a presentation on this topic June 11.
The presentation was brought to Kennedy by the Native American Heritage Initiative (NAHI) Employee Resource Group. One of eight resource groups at Kennedy, NAHI aims to bring employees together, provide networking opportunities and inform the workforce about our heritage.
Daniel Murphree, Ph.D., associate professor of history at the University of Central Florida, spoke on the history of native peoples in Florida and how their influences on the world continue even into today. "I always like to remind people that indigenous people were here before us," he said. "The indigenous people who were here before us really paved the way for us to be here."
Native peoples played a large role in the European colonization of Florida, participated in revolutionary activity during the American Revolution, and served in 20th and 21st century wars. They also contributed to the economics of the world by selling gold they would salvage from shipwrecks back to the Europeans, providing fish and farm produce to Florida settlers, and supplying materials, such as deerskins, alligator hides and exotic bird feathers, that were used in London and New York fashion.
More presently, Native Americans contribute to tourism in Florida and have capitalized on the gaming industry. A large number of casinos are found on reservations mainly because many state restrictions on gambling don't apply on the reservations due to Native American sovereignty. "The Indians didn't create the same kind of laws restricting gambling that you would see in the states and, therefore, they became the places people would go," said Murphree.
They also have influenced world views, sparking the debate on what savagery and civilization mean, the understanding of what conquest and sovereignty mean, and have been key to the societal acceptance of the gender roles that we enjoy today.
"Instead of Native Americans being outside of this Atlantic World that was formed, they were an integral part of it," said Murphree. "They weren't just affected by it, but they affected it themselves."