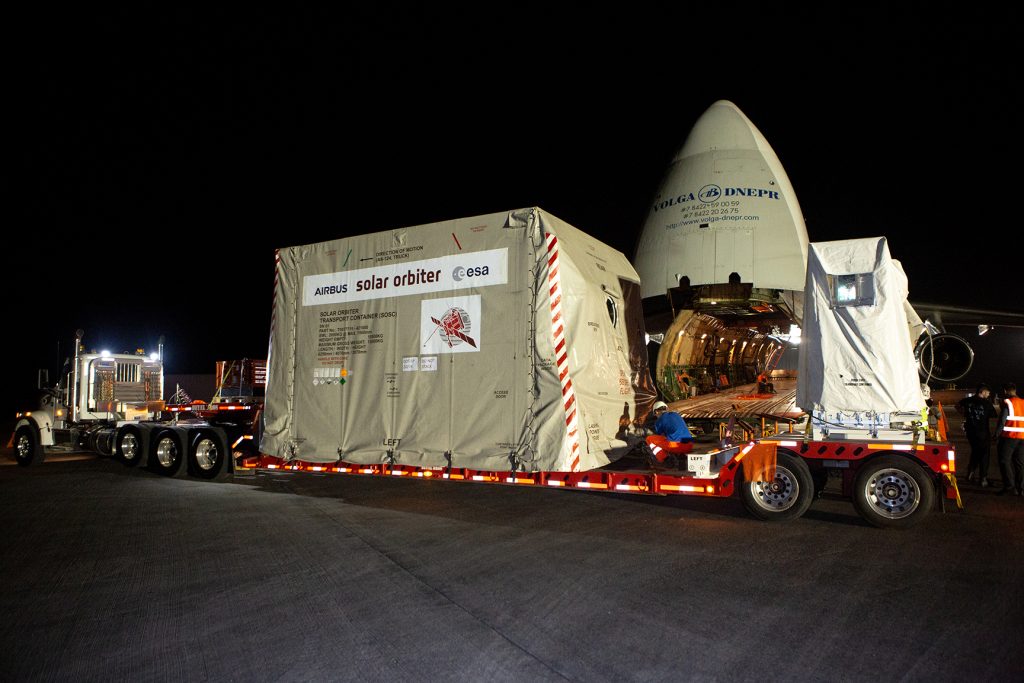 The European Space Agency's (ESA) Solar Orbiter spacecraft arrived at the Launch and Landing Facility, formerly known as the Shuttle Landing Facility, at NASA's Kennedy Space Center in Florida aboard an Antonov cargo plane from Munich, Germany, on Nov. 1. Upon arrival at the Florida spaceport, the spacecraft was offloaded and transported to the Astrotech Space Operations facility in nearby Titusville, where it will spend the next few months undergoing final preparations, tests and checkouts for liftoff.
Solar Orbiter is an ESA mission that will study the Sun, its outer atmosphere and solar winds. Using high spatial resolution telescopes, the spacecraft will observe the Sun's atmosphere up close and compare these observations with measurements taken around the spacecraft. Due to its unique orbit, Solar Orbiter will provide the first images of the Sun's poles. NASA's Launch Services Program based at Kennedy is managing the launch.
Although developed independently, ESA's Solar Orbiter and NASA's Parker Solar Probe, which launched Aug. 12, 2018, are natural teammates. Solar Orbiter's comprehensive science instruments and unique orbit will help scientists place NASA's Parker Solar Probe's measurements in context. By working together in this way, the two spacecraft will collect complementary data sets allowing more science to be gathered from the two missions than either could manage on its own.
The spacecraft's mission to the Sun is planned for launch on a United Launch Alliance Atlas V-411 rocket from SLC-41 at Cape Canaveral Air Force Station in Florida on Feb. 5, 2020, at 11:15 p.m. EST.