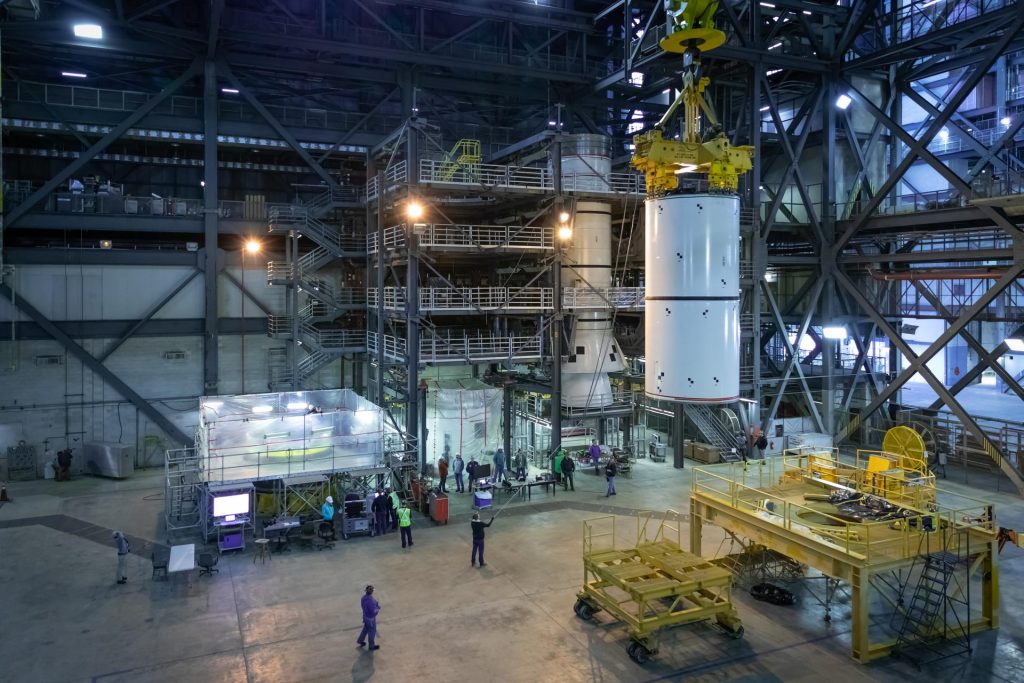 NASA's Exploration Ground Systems team, including engineers, technicians and crane operators with contractor Jacobs, are practicing lifting and stacking operations with pathfinder segments of Northrup Grumman's solid rocket boosters, which will provide extra thrust for NASA's Space Launch System rocket. Practice took place in High Bay 4 of the Vehicle Assembly Building at the agency's Kennedy Space Center in Florida.
"The pathfinder training has gone extremely well," according to Michael McClure, Jacobs' lead engineer for the Handling, Mechanical and Structures Engineering Group. "This is part of a series of practice exercises, which are providing great experience, especially for our new technicians, engineers, quality control personnel and crane operators."
Stacking rehearsals help prepare the team for actual processing of launch hardware for Artemis missions. These specific pathfinder segments are inert, full-scale replicas of the actual solid rocket boosters, with the same weight (300,000 pounds) and center of gravity.
During launch hardware processing, the booster segments will be shipped by train to Kennedy from the Northrup Grumman facility in Utah. They will arrive at a processing facility to be configured for final processing, then move to the VAB, where the launch processing team will stack them vertically on the mobile launcher. After the boosters are stacked, the SLS Core Stage will be lowered onto the mobile launcher and will be mated to the boosters.
At launch, the five-segment, 17-story-tall twin boosters will provide 3.6 million pounds of thrust each at liftoff to help launch the SLS carrying Orion on Artemis I, its first uncrewed mission beyond the Moon.
Watch a time lapse video of booster segment training at https://go.nasa.gov/2ts6u3w.