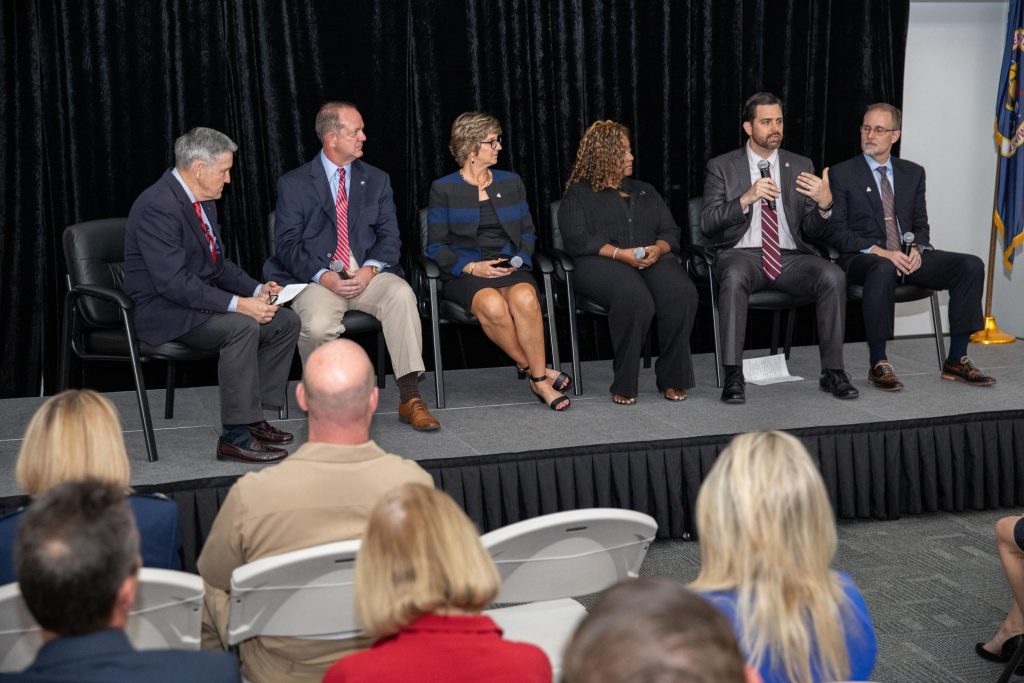 Community leaders, business executives, partners, educators and government representatives gathered at the Kennedy Space Center Visitor Complex on Feb. 18, 2020, for an update on Kennedy Space Center's accomplishments and what's ahead for this year. Center Director Robert Cabana greeted the group and served as moderator of a panel discussion with senior leaders of NASA programs based at the center.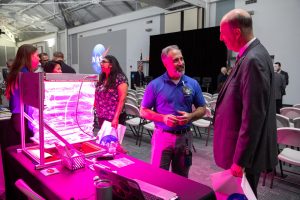 Panelists were Phil Meade, associate director, Spaceport Integration and Services; Jeremy Parsons, deputy manager, Exploration Ground Systems (EGS); Barbara Brown, chief technologist, Exploration Research and Technology (ER&T) Programs; Jenny Lyons, deputy manager, Gateway Logistics Element; and Tom Engler, director, Center Planning and Development (CPD).
The panelists gave an overview of the past year's accomplishments, focused on what's in store for this year and answered questions from the audience.
Artemis missions will pave the way for missions to Mars. EGS is preparing all of the ground support equipment and facilities for Artemis I. Verification and validations have been completed on the mobile launcher in the Vehicle Assembly Building. Simulations of launch countdown are taking place in Launch Control Center Firing Room 1. Teams are practicing stacking of Space Launch System boosters using pathfinder replicas. "Work is continuing on the Spaceport Command and Control System," Parsons said. "The Orion spacecraft for Artemis I will arrive later this year."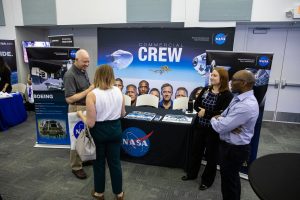 Gateway is NASA's permanent lunar outpost that will be positioned in orbit around the Moon. Gateway will include a power and propulsion element and habitation modules, and eventually airlock capabilities. The center's piece of the Gateway is logistics services, which will be used to deliver cargo, consumables and supplies for scientific research and technology demonstrations and commercial use.
"This center assignment leverages Kennedy's extensive experience in enabling commercial services, as well as our spacecraft and payload integration and processing expertise," Lyons said.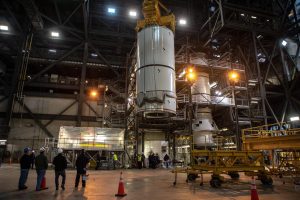 Spaceport Integration and Services is maintaining an integrated master schedule of all launches and processing activities. Kennedy and the Cape Canaveral Air Force Station are on track to manage more than 40 launches this year. The team continues to build relationships with commercial and government partners. The future includes keeping up with the launch demand and operating in non-traditional roles.
"We can only be successful when commercial and government space are integrated," Cabana said.
CPD is working on attracting more businesses to the spaceport. The goal is to enable companies to be successful; but the companies need to work on achieving that success. They are supporting one of the center's core missions: enable companies to fly what they have to space. Currently, Boeing, SpaceX, United Launch Alliance and Blue Origin are doing just that.
Food production–plants and habitats–and dust mitigation are two of the technologies being developed by ER&T. "Plant production has to be compact," Brown said. Two growth chambers developed here are currently on the International Space Station: Veggie and the Advanced Plant Habitat. The team also is looking at regolith operations and how to dampen the effect of dust that is kicked-up as landers touchdown on surfaces such as the Moon.
"We have an amazing year ahead of us," Cabana said. "It's our community working together that makes it so successful."