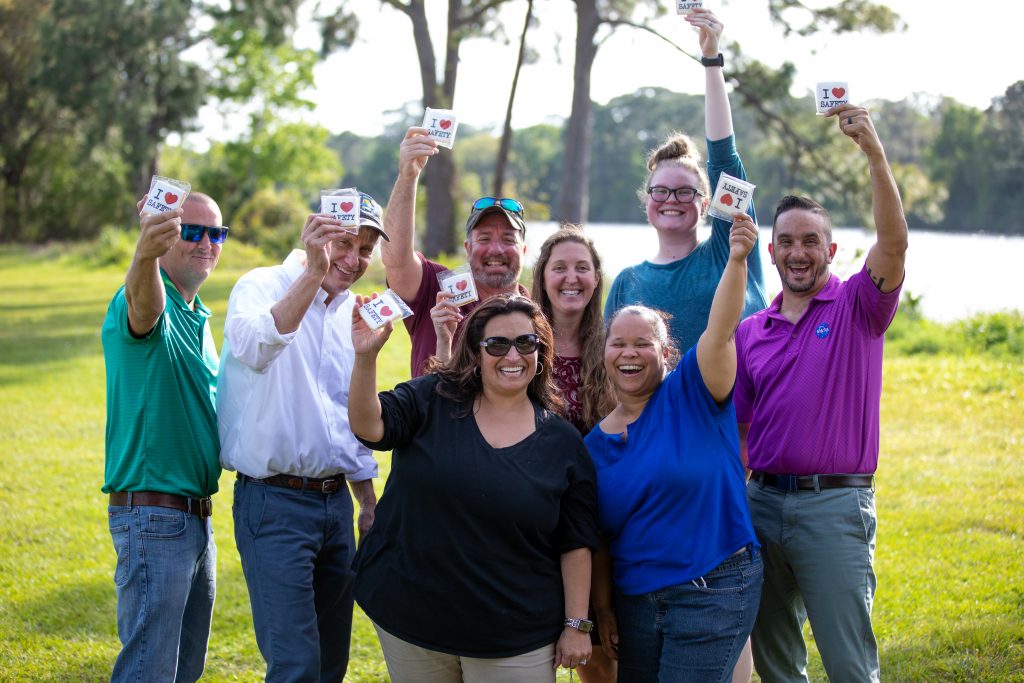 Maintaining a safe and healthy workforce remains a top priority at NASA's Kennedy Space Center in Florida, and this year, that was reinforced through the center's annual Safety and Health Days. The theme – Know What Matters – was amplified through a wide variety of events and presentations for employees to attend March 2–10, 2020.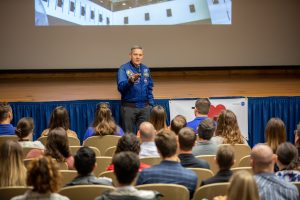 Safety and Health Days kicked off Monday, March 2, with a presentation by NASA astronaut Stan Love, who was first selected to be an astronaut in 1998 and now serves as a crew representative for the agency's Space Launch System. Love, along with six crew members, launched to the International Space Station in 2002 on STS-122, spending nearly two weeks in space to install the station's Columbus Laboratory module.
"During that time, nothing scary happened. And that's thanks in part to people in this room," he said. Love, excited to witness astronauts launch from Florida once again in the near future, went on to discuss how activities at Kennedy are ramping up with commercial partners Boeing and SpaceX under NASA's Commercial Crew Program.
"It's good to see activity and optimism and looking forward here," he said. "But these new vehicles may present us with some scary moments. And the big question we're all asking ourselves – especially on safety day and especially here at the Kennedy Space Center – is are we ready?"
Kennedy Center Director Bob Cabana also provided some opening remarks on March 2 prior to introducing Love as the guest speaker.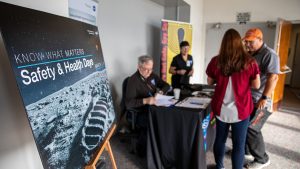 "We've got some huge challenges in front of us this year, and we're going to have to make some tough decisions," he said. "My number one goal this year is to safely fly crews on U.S. rockets from right here at KSC to the International Space Station. I just want to make sure that we've done our very best to prepare so that when we fly our crews on these vehicles, we're confident that we've played our role to make sure it's as safe as it can possibly be."
On Wednesday, March 4, Jim Wetherbee, a retired U.S. Navy captain and former NASA astronaut, spoke to Kennedy employees on the topic of controlling risk in a dangerous world, which focused largely on the importance of mental attitude and preparedness.
"We're all humans, we all make mistakes. But in a dangerous business, the smallest mistake can quickly cascade to disaster," he said. "You have to follow the rules – you have to have policies and procedures – but we supplement the rules with techniques, and largely those techniques are mental attitudes that are so critical and important for controlling risk, staying alive and accomplishing the mission."
The subject of employee health and wellbeing, both at home and at work, was another main focus throughout the week.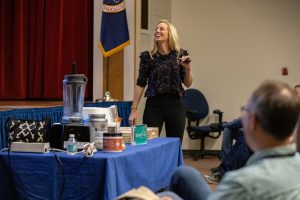 "What we put in our bodies can directly affect how we feel and function. You would think that would be reason enough to motivate us to eat healthier, but for some reason, it just doesn't. It's my mission to redefine what healthy means by making it simple," said Carly Paige, an integrative nutrition health coach and chef, during a presentation on Thursday, March 5.
Paige's presentation included suggestions on how to improve health and energy levels throughout the day by incorporating simple food swaps into snacks and meals, such as using coconut sugar instead of white or brown sugar, lentil pasta in place of classic pasta or eating carrots with hummus instead of chips. She also discussed how healthy living habits stem from a change in lifestyle.
Extending into the weekend was the Tour de KSC – a bicycle tour of Kennedy open for all employees to attend. The tour included three different routes available for individuals to choose from, with lengths ranging from seven to 33 miles. All routes provided participants with photo opportunities with some of Kennedy's most iconic structures and facilities, such as the Vehicle Assembly Building, Launch and Landing Facility, Launch Pad 39A and more. Also available for employees to attend was the KSC Walk Run, on Tuesday, March 10, at the landing facility. The Walk Run allowed participants to choose from a simultaneously occurring two-mile walk or run, 5K run and 10K run.
While these presentations and events may only happen once every year, one thing remains constant: The workforce at Kennedy knows what matters. And that involves taking care of one another and performing safe operations here on Earth to support safe and healthy crews in space, allowing NASA to continue pushing the boundaries of space exploration.