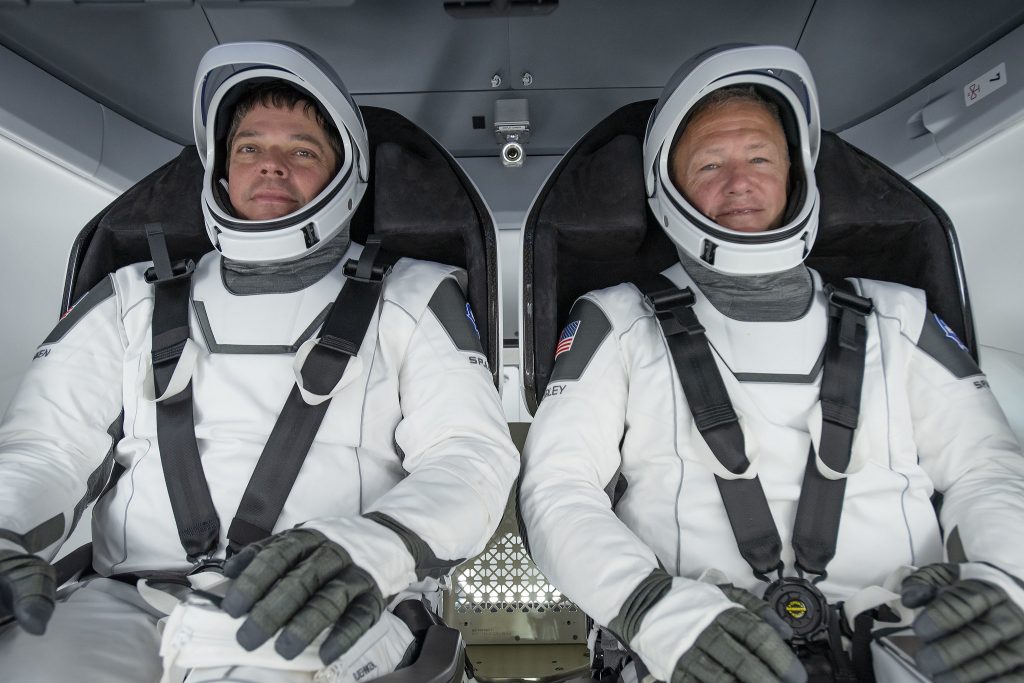 NASA will host a series of televised briefings on Friday, May 1, to preview the upcoming Demo-2 mission to the International Space Station. Demo-2 will mark the first launch of American astronauts aboard an American spacecraft from American soil since the conclusion of the space shuttle era in 2011.
NASA astronauts Robert Behnken and Douglas Hurley will fly to the station aboard a SpaceX Crew Dragon spacecraft launched by a Falcon 9 rocket from Kennedy Space Center's Launch Complex 39A. Liftoff is slated for May 27.
Originating from the agency's Johnson Space Center in Houston, all three briefings will be broadcast live on NASA Television and online at www.nasa.gov/live. Times are provided in Eastern.
11 a.m.: The Commercial Crew and International Space Station overview news conference will include NASA Administrator Jim Bridenstine; Kathy Lueders, program manager, NASA's Commercial Crew Program; Kirk Shireman, program manager, International Space Station Program; and Gwynne Shotwell, president and chief operating officer, SpaceX.
12:30 p.m.: The mission overview news conference will include Steve Stich, NASA's Commercial Crew Program deputy manager; Zeb Scoville, NASA Demo-2 flight director, Flight Operations Directorate at Johnson; and Benji Reed, SpaceX director of crew mission management.
2 p.m.: The crew news conference will include both crew members for NASA's SpaceX Demo-2 mission: astronaut Robert Behnken, joint operations commander, and astronaut Douglas Hurley, spacecraft commander.
The Demo-2 mission will serve as an end-to-end flight test to validate the SpaceX crew transportation system, from launch to docking to splashdown at the mission's end. It is the final flight test for the system to be certified for regular, crew flights to the station as part of NASA's Commercial Crew Program.