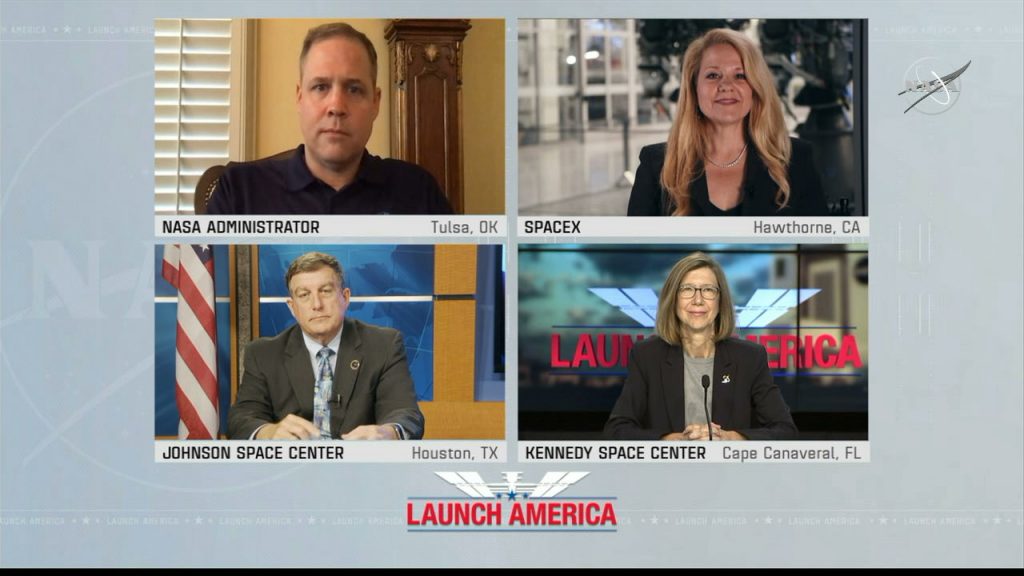 NASA and SpaceX managers joined NASA astronauts Robert Behnken and Douglas Hurley for a series of virtual briefings on May 1, offering a preview of the upcoming mission to the International Space Station as a part of the agency's Commercial Crew Program (CCP). NASA's SpaceX Demo-2 mission will be the first crewed flight to launch from U.S. soil since the conclusion of the Space Shuttle Program in 2011.
Behnken and Hurley will fly to the station aboard a SpaceX Crew Dragon spacecraft launched by a Falcon 9 rocket from Kennedy Space Center's Launch Complex 39A. Liftoff is slated for May 27 at 4:32 p.m. EDT.
Building on last year's uncrewed Demo-1 flight to the station, Demo-2 will be an end-to-end test of SpaceX's crew transportation system, paving the way for NASA to certify the system for regular crewed flights to the orbiting laboratory. This capability, in turn, will maximize the station's use as a scientific platform unparalleled on Earth.
"This is a high priority mission for the United States of America. We as a nation have not had our own access to the International Space Station for nine years," NASA Administrator Jim Bridenstine said. "At the same time, we've had American astronauts on the International Space Station for 20 years in a row, and they've been doing these absolutely stunning experiments and discoveries and advancing the human condition from the microgravity of space."
NASA's Commercial Crew Program team has worked in partnership with SpaceX for many years to reach this point, according to Kathy Lueders, CCP manager, and Gwynne Shotwell, SpaceX president and chief operating officer.
"I want to make it clear that this is one of many exciting and hard days that we have in front of us," Lueders said. "Gwynne's team and my team are diligently working on getting the vehicles ready; making sure that all the i's are dotted and t's are crossed in our analysis, test data, assessments; going through all the reviews. We're making sure that we are ready for this important mission to safely fly Bob and Doug up to the International Space Station and return them to their families."
"We've worked closely with NASA since 2006," Shotwell said. "All that work is culminating in this historic event coming up in just a few weeks."
One critical milestone was completed today: the 27th and final test of Crew Dragon's enhanced Mark 3 parachute design. The parachutes will play a key role in the safe landing of the crew when the spacecraft returns to Earth.
Behnken and Hurley both are veterans of two space shuttle flights, having been selected as astronauts in the same class – the 2000 astronaut class. Behnken served as a mission specialist on STS-123 and STS-130, while Hurley was the pilot on STS-127 and STS-135 – the final flight of the program. Today, they're preparing for their first flight together on a momentous mission.
"It's probably a dream of every test pilot school student to have the opportunity to fly on a brand-new spaceship, and I'm lucky enough to get that opportunity with my good friend, here, Doug Hurley," Behnken said of his friend and crewmate, seated beside him.
"It's a great honor to be part of this mission," Hurley added. "It's amazing after all this time to be less than a month away from launch down in Florida."
Behnken and Hurley truly are embarking on a test flight. While Crew Dragon is docked to the space station, mission controllers at NASA's Johnson Space Center in Houston will work with the crew to carry out a series of test objectives.
"This is really to shake down and demonstrate that all the preparations and the emergency capabilities we've built into this vehicle have made it reliable — as a lifeboat in a contingency aboard [station] and it's always there as a backup to get crew members down to the ground if needed – but also reliable to carry crew members up and down on a regular and repeatable basis," said Zeb Scoville, NASA Demo-2 flight director.
One unexpected challenge the teams have had to manage is how to deal with the arrival of the novel coronavirus. Even in the midst of the global pandemic, mission preparations have continued – with precautions. Those precautions – such as social distancing – extend to launch viewers, too.
"We won't have the luxury of having our family and friends being there at Kennedy to watch the launch. But, obviously, it's the right thing to do in the current environment," Hurley said. "We want everybody to be safe. We want everybody to enjoy this and relish this moment in U.S. space history, but be safe and enjoy it from a distance."
Current plans call for the astronauts to arrive at Kennedy a few days prior to liftoff for one final launch dress rehearsal.
"This is a very exciting time," Bridenstine said. "The International Space Station is a critical capability for the United States of America; having access to it is also critical. We are moving forward very rapidly with this program that is so important to our nation and, in fact, to the entire world."