The SpaceX Falcon 9 rocket set to launch NASA astronauts Robert Behnken and Douglas Hurley on the agency's upcoming SpaceX Demo-2 mission to the International Space Station is in position for liftoff at Kennedy Space Center's Launch Complex 39A. The rocket, topped by the Crew Dragon spacecraft, arrived at the launch pad Thursday morning. Liftoff is planned for 4:33 p.m. EDT on Wednesday, May 27.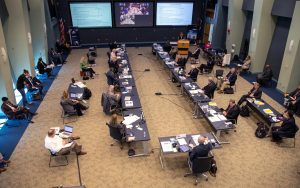 Meanwhile, NASA and SpaceX managers are gathered at Kennedy, with some participating remotely to maintain physical distance, for the Demo-2 Flight Readiness Review (FRR). The review will focus on the readiness of SpaceX's crew transportation system; the readiness of the station program and its international partners to support the flight; and the certification of flight readiness.
The FRR is targeted to be completed today, but officials have set aside additional time tomorrow, if needed. Approximately one hour after the review ends, the agency will hold a news conference on NASA Television and online at http://www.nasa.gov/live.
For more details about the above activities and other events leading up to the launch, visit NASA's Commercial Crew Blog.