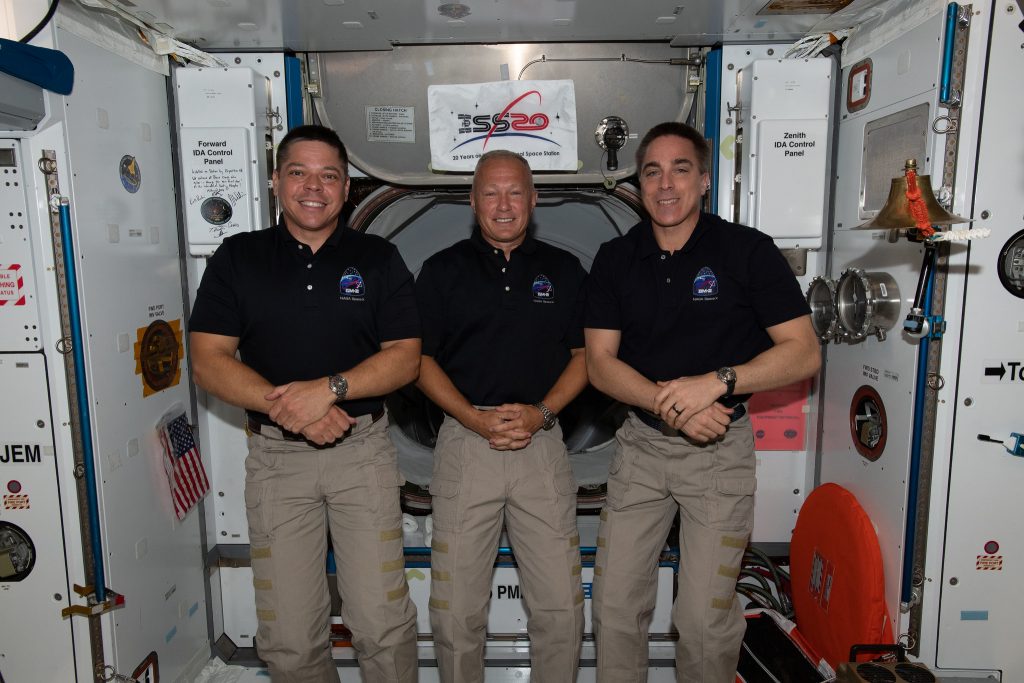 NASA astronauts Robert Behnken and Douglas Hurley are looking forward to their return to Earth following more than two months at the International Space Station during the agency's SpaceX Demo-2 mission. The crewmates discussed their upcoming SpaceX Crew Dragon departure and splashdown during a news conference alongside fellow NASA astronaut and current Expedition 63 commander Chris Cassidy on Friday, July 31, from the orbiting laboratory.
Behnken and Hurley are wrapping up a successful mission to the station with a sense of satisfaction.
"Just to be able to live and work aboard the space station – a facility that the three of us all helped to build during shuttle flights – and to be a crew member with Chris and Bob on a day-to-day basis, supporting station operations, supporting science, supporting maintenance, the four spacewalks that these guys did, the robotics that we did, was just an incredible experience," Hurley said.
Weather permitting, undocking remains scheduled for approximately 7:34 p.m. EDT Saturday, Aug. 1, and splashdown at 2:42 p.m. EDT on Sunday. This will mark the first return of a commercially built and operated American spacecraft carrying astronauts from the space station.
"As we get closer, we focus more and more on our preparations to be ready for the splashdown activities," Behnken said. "We spent today working through the onboard training that will refamiliarize us with the splashdown activities, what our responsibilities will be, the things that we'll monitor."
Teams are keeping a watchful eye on Hurricane Isaias and will continue to evaluate impacts to weather around the Florida peninsula, including the potential splashdown sites in the Gulf of Mexico and along the state's Atlantic coast. NASA and SpaceX will make a decision on a primary splashdown target approximately 6 hours before undocking Saturday.
"We're watching [forecasts] closely, mostly to maintain awareness and see the trends, and understand what the timeline would be if our recovery out of the water, for example, was delayed a little bit. But we have confidence that the teams on the ground are of course watching that much more closely than we are," Behnken said. "We don't control the weather, and we know we can stay up here longer – there's more chow, and I know the space station program has more work that we can do for the [principal investigators] and other folks who have sent science up to the space station."
The Crew Dragon spacecraft carrying Hurley and Behnken lifted off from NASA's Kennedy Space Center in Florida on May 30 and arrived at the space station the following day. The Demo-2 test flight is helping NASA certify SpaceX's crew transportation system for regular flights carrying astronauts to and from the orbiting laboratory. SpaceX is readying the hardware for the first rotational mission, which would follow NASA certification.
"It's a simple math equation: There was one, and then there were three. We effectively tripled our ability to get work done, and with all three of us having been here before, in short order, we were running at full steam and getting as many science objectives completed as we could," Cassidy said. "These last two months, it's been fantastic to have buddies at the chow table to reflect on the day, think about tomorrow, and talk about world events and that sort of thing. I'll definitely miss them when they head back."
More details about the return can be found in the Top 10 Things to Know for NASA's SpaceX Demo-2 Return and the splashdown weather criteria fact sheet.