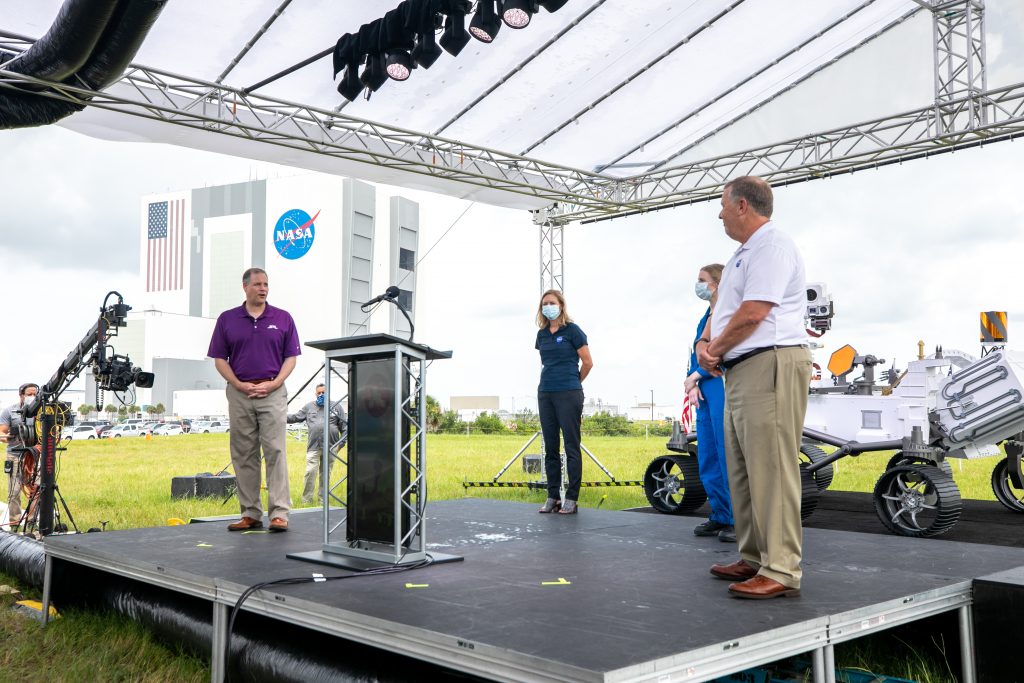 By Jim Cawley
NASA's Kennedy Space Center
Bursts of Florida afternoon rain showers could not dampen the spirts of NASA leaders on the eve of a much-anticipated mission to Mars.
"I'm exceptionally excited about what we're about to do because we're going to launch Mars 2020 with the Perseverance robot," NASA Administrator Jim Bridenstine said during Wednesday's briefing at the agency's Kennedy Space Center. "But there is so much more going on here. This is the first time in history where we're going to Mars with an explicit mission to find life on another world — ancient life on Mars."
The briefing was held outdoors near the Florida spaceport's iconic countdown clock. A temporary structure installed on the Press Site lawn shielded participants and limited media from the typical Sunshine State summer downpour.
The Mars 2020 Perseverance rover is scheduled to lift off aboard a United Launch Alliance Atlas V 541 rocket on Thursday, July 30, from Cape Canaveral Air Force Station's Space Launch Complex 41 in Florida. The two-hour window opens at 7:50 a.m. EDT. NASA's Launch Services Program, based at Kennedy, is managing the launch.
Despite dealing with significant challenges associated with COVID-19, Kennedy (and its surrounding area) is hosting the second major launch in two months. SpaceX's Demo-2 mission, carrying NASA astronauts Douglas Hurley and Robert Behnken to the International Space Station, lifted off from Launch Complex 39A on May 30.
"When we started 2020, we knew we were going to have a big year at the spaceport," Kennedy Deputy Director Janet Petro said. "And I think the events and the milestones of the next couple days are really going to demonstrate that."
Developed under NASA's Mars Exploration Program, the rover will search for signs of past microbial life. Perseverance will reach Mars on Feb. 18, 2021, touching down on the surface of Jezero Crater.
Attached to the belly of the rover and weighing less than four pounds is NASA's Mars Helicopter, Ingenuity. The twin-rotor, solar-powered helicopter will become the first aircraft to fly on another world.
"Ingenuity is going to transform how we think about exploring worlds in the future," Bridenstine said.
The rover will collect and store a set of rock and soil samples that could be returned to Earth by future Mars sample return missions. It also will test new technologies to benefit future robotic and human exploration of Mars.
"In 2026, we're going to launch a mission from Earth to Mars to go pick up those samples and bring them back to Earth," Bridenstine said. "For the first time in history, we're doing a Mars sample return mission."
NASA Television and the agency's website will provide live launch coverage tomorrow morning, starting at 7. Stay tuned as the mission eclipses multiple milestones — including stage separation, main engine cutoff, and spacecraft separation — or follow along at blogs.nasa.gov/Mars2020. NASA will broadcast a post-launch news conference, beginning at 11:30 a.m.