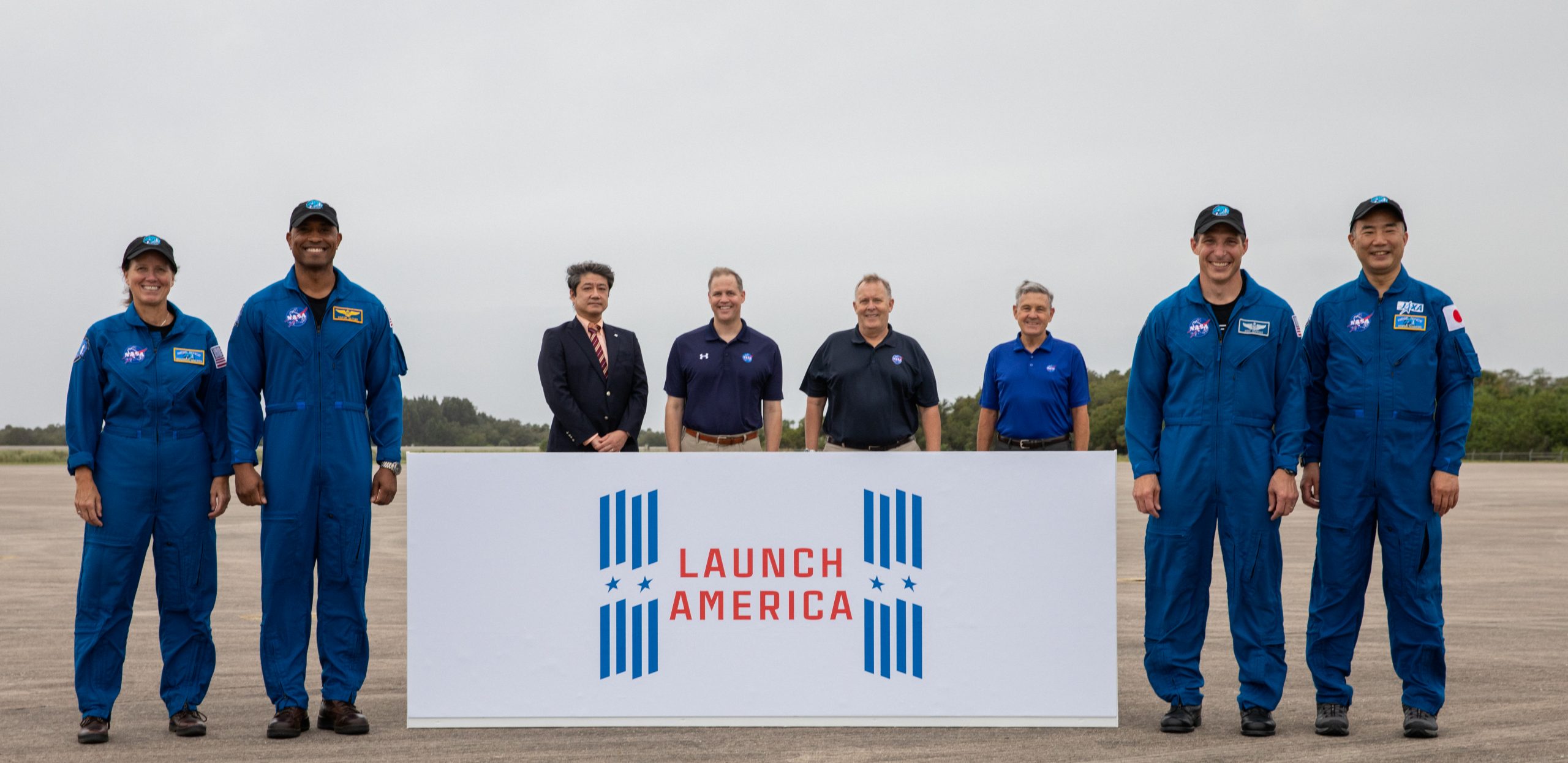 The astronauts that will soon launch to the International Space Station as part of NASA's SpaceX Crew-1 mission arrived today at the agency's Kennedy Space Center in Florida to start final preparations for liftoff.
NASA astronauts Michael Hopkins, Victor Glover, and Shannon Walker, along with Soichi Noguchi of the Japan Aerospace Exploration Agency (JAXA), landed via plane at the Launch and Landing Facility at Kennedy after departing earlier today from Ellington Field near the agency's Johnson Space Center in Houston.
"On behalf of the crew of Resilience, on behalf of our families, we want to say a big 'thank you' to all of the people at SpaceX, at NASA, and in the (Department of Defense) who have been working tirelessly to get us to this point. It's really been an incredible effort by an incredible group of people," said Hopkins, who will serve as the mission's commander. "As for the crew: we're ready."
NASA and JAXA leadership also greeted the Crew-1 astronauts at arrival to the launch site for a brief welcome ceremony.
"Today we are taking another big leap in this transformation in how we do human spaceflight. What we're talking about here is the commercialization of space. NASA is one customer of many customers in a very robust commercial marketplace in low-Earth orbit," NASA Administrator Jim Bridenstine said. "We're transitioning from test flights to operational flights. Make no mistake, every flight is a test flight when it comes to space travel, but it's also true that we need to routinely be able to go to the International Space Station."
The astronauts are scheduled to lift off at 7:49 p.m. EST Saturday, Nov. 14, aboard a SpaceX Crew Dragon spacecraft carried by a Falcon 9 rocket for a full duration mission to the space station as part of NASA's Commercial Crew Program.
"It is really exciting; I can't tell you how great it is to be able to welcome a crew here to go to space again. I envy each and every one of you," said Kennedy Space Center Director Bob Cabana. "This whole effort to commercialize low-Earth orbit – this is just a giant step in making that happen."
Crew-1 also will launch the first international crew to fly on the new, commercial system developed in a partnership between NASA and SpaceX.
"I believe the Crew-1 mission opens up a new era of low-Earth orbit commercialization," said Junichi Sakai, manager of JAXA's International Space Station Program. "I'm honored to be able to witness this great event, and I'm proud that a Japanese astronaut, Dr. Noguchi, is carrying responsibility as a member of this event."
On Monday, Nov. 9, NASA and SpaceX managers will begin a flight readiness review at Kennedy to determine whether the Crew Dragon and its systems are ready for the mission. A media teleconference conference will be held approximately one hour after the review concludes.
Also, tune in to NASA Television or the agency's website at 1:15 p.m. EST the same day for a Virtual Crew Media Engagement at Kennedy with the Crew-1 astronauts who will go live from the Astronaut Crew Quarters inside Kennedy's Neil Armstrong Operations & Checkout Building.
More details about the mission and NASA's Commercial Crew Program can be found in the press kit online and by following the commercial crew blog, @commercial_crew and commercial crew on Facebook.