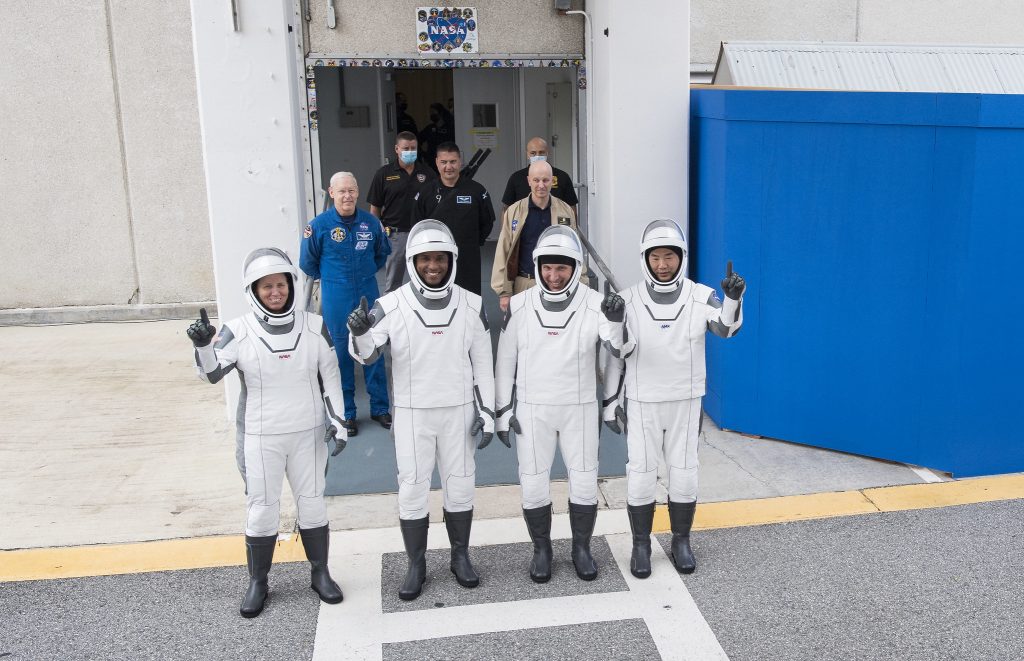 Today at NASA's Kennedy Space Center in Florida, NASA astronauts Michael Hopkins, Victor Glover, and Shannon Walker, and astronaut Soichi Noguchi of the Japan Aerospace Exploration Agency (JAXA) participated in a countdown dress rehearsal of  launch day events. The crewmates are preparing to launch aboard a SpaceX Crew Dragon spacecraft on the company's Falcon 9 rocket and fly to the International Space Station for a six-month science mission.
NASA's SpaceX Crew-1 astronauts began their day in the Astronaut Crew Quarters inside Kennedy's Neil A. Armstrong Operations and Checkout Building. They put on their black-and-white SpaceX spacesuits, took the elevator down to the ground level and exited through a pair of double doors, where their transport vehicles — Tesla Model X cars — waited. With smiles and waves, they climbed in for the 20-minute ride to Launch Complex 39A.
The Falcon 9 rocket and Crew Dragon spacecraft have been in place on the launch pad since Monday evening, Nov. 9. Crew Dragon Commander Hopkins, Pilot Glover, and Mission Specialists Walker and Noguchi entered the Crew Dragon by way of the pad's Crew Access Arm and checked their communications systems before the hatch was closed. The rehearsal concluded with the go/no-go poll for Falcon 9 propellant loading, which normally occurs 45 minutes before launch.
Crew-1 is the first crew rotation flight of a U.S. commercial spacecraft with astronauts to the space station following the spacecraft system's official human rating certification. Liftoff is slated for Saturday, Nov. 14, at 7:49 p.m. EST.