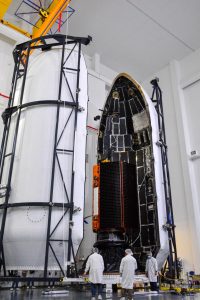 The Flight Readiness Review (FRR) for the U.S.-European Sentinel-6 Michael Freilich ocean-monitoring satellite has concluded, and teams are proceeding toward a planned liftoff aboard a SpaceX Falcon 9 rocket at 9:17 a.m. PST (12:17 p.m. EST) on Saturday, Nov. 21, from Vandenberg Air Force Base in California. 
This mission is an international collaboration between NASA and several partners. It is the first of two identical satellites to be launched this year and in 2025 to continue observations of sea level change for at least the next decade.
Live launch coverage will begin at 8:45 a.m. PST (11:45 a.m. EST), on NASA Television and the agency's website, with prelaunch and science briefings the day before on Nov. 20. Click here for ways to follow along with the mission.