During Women's History Month, we reflect on the contributions of trailblazers at NASA who inspire the next generation of women. As we continue to celebrate women's accomplishments, meet Notlim Burgos, Mechanical Interface Systems Team Lead for NASA's Launch Services Program (LSP), based at the agency's Kennedy Space Center in Florida.
Burgos supports NASA's Double Asteroid Redirection Test (DART) Mission, which is the agency's first planetary defense mission, and Landsat 9, the ninth Earth-observing satellite mission in the Landsat series. She was inspired from a young age to pursue STEM, leading to her 15-year career at NASA. Hear Burgos' story and her advice for future generations.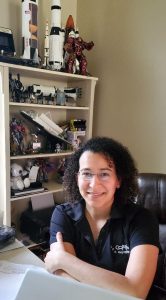 What do you enjoy most about your job?
I love working alongside a range of amazing people who bring diverse expertise and perspectives, which provide a wide variety of solutions for the challenges that we face daily I learn something new from everybody every day. I enjoy having the opportunity to follow the spacecraft and the launch vehicles through the whole mission lifecycle.
Who inspires you most?
My family – especially my nieces and goddaughter. At a young age, they are demonstrating a special interest in STEM and space. One wants to be an astronaut and dreams of going to the Moon and to Mars. When I see their enthusiasm and think of the possibilities of what they can become, it inspires me to want to be the best role model that I can be. I want them to feel encouraged to follow their dreams and see the many career opportunities that women can pursue.
When did you first realize you had a passion for STEM?
I found my passion for STEM when I was in the ninth grade on an educational trip during which we visited Disney World and Kennedy. We got behind-the-scene tours where we met Disney "Imagineers," the park's engineers, who explained how they used the power of science to develop park attractions. That gave me a glance for the first time at how much you can do with STEM.
At Kennedy, I saw the Shuttle at Launch Pad 39A, and I was flabbergasted. We slept under the 363-foot Saturn V moon rocket at the Apollo/Saturn V Center. Also, we met astronaut Charles Duke, the youngest person to walk on the Moon. These experiences convinced me that traveling through space was possible. At that moment, I knew that I wanted to be part of NASA's team to see how far we can reach. When I returned from the trip, I told my parents I wanted to be a NASA engineer!
What advice would you give to young girls considering a STEM career?
Challenge yourself and don't be afraid of failure. Always be yourself, be passionate, and always do your best. You may face challenges that seem impossible to conquer, but believe that you can do anything that you set your mind to. After failing a math course early in engineering school, I told my dad I didn't think engineering was for me. I will never forget my dad's words. He said, "You knew engineering wasn't going to be easy. Remember where you want to be – NASA! I know you can do it; you just need to study harder."
I appreciated his kind words and unconditional support. I retook and passed the course the following semester, and I graduated engineering school with honors. The easy route was giving up; the hardest was facing the challenges with conviction in pursuit of my dreams. I will forever be grateful for my father's encouragement during those challenging times.
What advice would you give someone who wants to work at NASA?
A common misconception is that NASA only hires STEM professionals. My advice is to research the different opportunities that NASA offers. There are opportunities for professionals with various levels of expertise and experience. Become familiar with the NASA centers, the Pathways Program, and usajobs.com. The Pathways Program offers opportunities to work at NASA while attending school, and through usajobs.com you can build your resume and apply for positions. Lastly, do not give up, be patient but persistent; you never know when you are going to receive that call for an interview.
What is your favorite part about working for NASA?
My favorite part is that I can leverage my experiences to mentor others. I owe part of my success to my mentors. It is important to me to share what I have learned so that others achieve their goals. There is nothing more rewarding than to see somebody succeed and see how they evolve into influential mentors for others. I also enjoy supporting educational outreach, which is a great platform to inspire others to pursue careers in STEM.