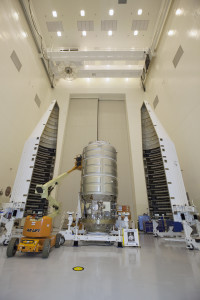 The enhanced Cygnus spacecraft and more than 7,100 pounds of cargo have been enclosed inside a payload fairing at NASA's Kennedy Space Center in Florida as processing moves ahead on schedule for a Dec. 3 launch. The Orbital ATK Cygnus will be moved to Space Launch Complex 41 early Friday and lifted to the top of a waiting United Launch Alliance Atlas V rocket.
The spacecraft, which will carry no people, is to lift off aboard the Atlas V to take equipment, experiments and supplies to the International Space Station for use by the residents there including yearlong-crew member astronaut Scott Kelly. Speaking to the news media last week, Orbital ATK's Dan Tani – a former astronaut who served as a station resident – said a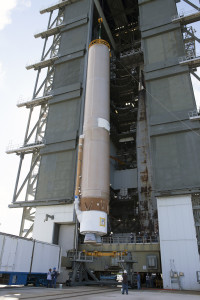 new round of cargo always brings excitement: "It's a real morale boost. It's like coming home from the store and unpacking the trunk full of the things you bought. A lot of stuff you didn't know you needed along with a lot of things like notes from home and other items that are really meaningful."
The enhanced Cygnus can carry about 25 percent more mass than its predecessor and features upgraded Ultraflex solar arrays that unfurl like a fan into a circle and are lighter than the previous models. For NASA, the increased capacity brings the obvious benefit of taking more to the station at once, ranging from daily supplies of food and clothing for the station residents to new experiments so astronauts can continue to use the space-based laboratory to the benefit of all on the Earth. For the astronauts, the new round of cargo brings excitement. Photo credits: top – NASA/Dmitri Gerondidakis, below – NASA/ Kim Shiflett.