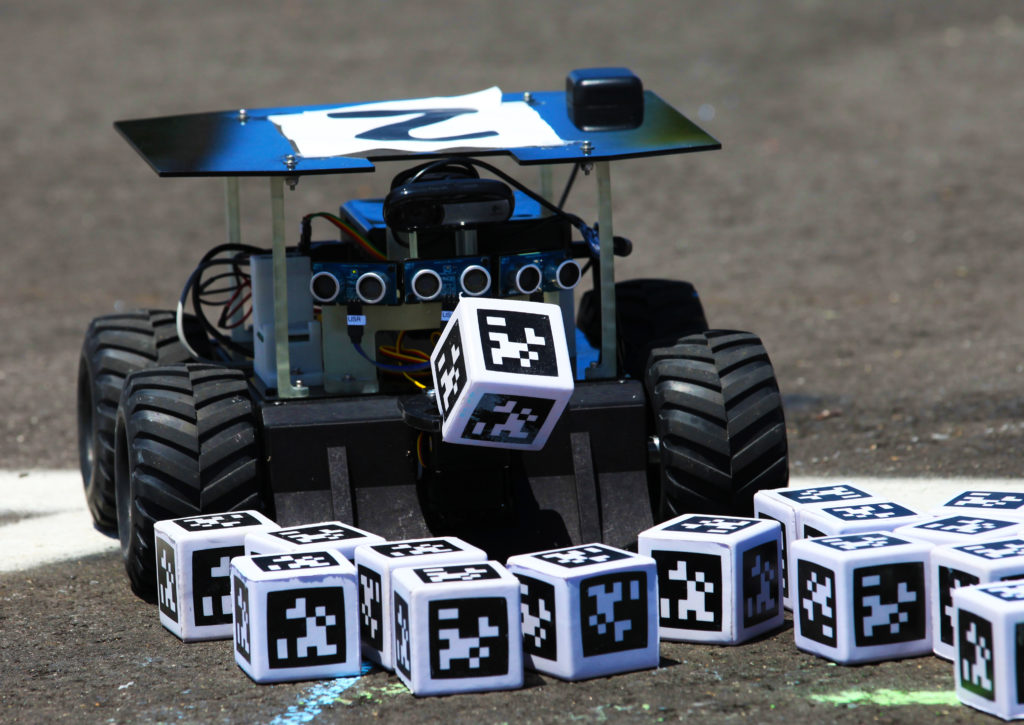 NASA's Minority University Research and Education Project (MUREP) is gearing up for the third annual Swarmathon taking place April 17-19. Students from minority serving universities and community colleges from across the nation will participate in a robotic programming competition at NASA's Kennedy Space Center Visitor Complex. Their developments may lead to technology which will help astronauts find needed resources when exploring the Moon or Mars.
Students from 12 colleges participated in the spaceport's first annual Swarmathon. Interest increased last year, with 20 teams joining in. In this year's Swarmathon, 23 teams representing 24 universities and community colleges are developing software code to operate innovative robots called "Swarmies."
Swarmies are small robotic vehicles measuring about 12 inches by 8 inches by 8 inches. Each Swarmie is equipped with sensors, a webcam, a GPS system and a Wi-Fi antenna. They operate autonomously and can be programmed to communicate and interact as a collective swarm.
The aspiring computer engineers will be challenged to develop search algorithms for robotic swarms. Algorithms are self-contained, step-by-step operations to perform calculation, data processing and automated reasoning. Swarmathon participation will improve students' skills in robotics and computer science, and further advancing technology for future NASA space exploration missions.
Successful exploration of the Moon and Mars requires the location and retrieval of local resources on the surface of these locations beyond Earth. Technologies are needed to find and collect materials such as ice (convertible into liquid water, hydrogen fuel and oxygen to support human life) and rocks, minerals and construction materials to build human shelters.
NASA's MUREP selected the University of New Mexico to manage the Swarmathon challenge in a joint effort with the agency. Through the MUREP program, NASA's goal is to increase the number of NASA-focused science, technology, engineering and mathematics, or STEM, experiences that engage underrepresented groups in active education.
Lern more at: NASA Swarmathon