The first commercially funded airlock for the International Space Station is ready for its journey to space. On Saturday, Oct. 10, teams moved the Nanoracks Bishop Airlock to SpaceX's processing facility at NASA's Kennedy Space Center in Florida. Two days later, it was packed in the Dragon spacecraft's trunk for its ride to the orbiting laboratory.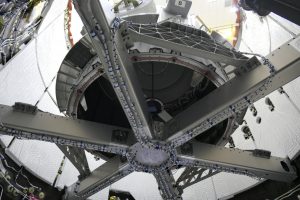 The airlock will provide payload hosting, robotics testing, and satellite deployment, and also will serve as an outside toolbox for crew members conducting spacewalks.
The Bishop Airlock is launching on SpaceX's 21st commercial resupply services (CRS-21) mission to the space station. This will be the first flight of SpaceX's upgraded cargo version of Dragon, which can carry more science payloads to and from the space station.
The pressurized capsule will carry a variety of research including studies on the effects of microgravity on cardiovascular cells, how space conditions affect the interaction between microbes and minerals, and a technology demonstration of a blood analysis tool in space. CRS-21 is scheduled to launch aboard a Falcon 9 rocket from Kennedy's Launch Complex 39A. Teams are targeting late November or early December for liftoff.