A small group of undergraduate students from Langston University in Oklahoma soaked up an extraordinary experience during a tour of NASA's Kennedy Space Center.
Traveling with Byron Quinn, Ph.D., Langston's director of the Science Research Institute, the students were making their first trip to Kennedy — and to the Sunshine State — on Wednesday, Sept. 18. The tour included stops at SwampWorks, Space Station Processing Facility (SSPF) labs, the microgravity simulator in the Neil Armstrong Operations and Checkout Building, the Vehicle Assembly Building and the Visitor Complex. The students also met with science, technology, engineering and mathematics (STEM) leads at the Center for Space Education to explore internship possibilities.
"It was definitely eye-opening," said Sherman Cravens, who attended with fellow Langston students Kashia Cha, Makyah Farris and Courtney Miller. "It's very exciting to see the work they are doing here firsthand. And they're reaching out to students and saying 'you can do this work, too.'"
Kennedy's Dr. Gioia Massa, the NASA Veggie project lead, along with Lashelle Spencer, research and development scientist, guided the students through SSPF areas featuring International Space Station environmental simulator chambers; Veggie; Greenwerks, which studies plant growth in space; and food production innovation.
Cha, whose family owns a wholesale produce business, was particularly interested in hydroponics, a method with which she has some experience.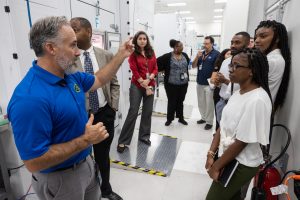 "It's exciting to see NASA using the same thing; it's also very intriguing to see the differences in it as well," Cha said. "I'm here to learn and to see. I loved it all — especially the hydroponics."
Langston, a Historically Black College and University (HBCU), is a NASA Office of STEM Engagement grantee under the Minority University Research and Education Project (MUREP) Institutional Research Opportunity (MIRO). Wednesday's trip addressed a main focus of research being done at the university by Quinn and his students: to develop natural countermeasures — through extracts from plants — that will benefit astronauts' immune systems.
"For the students to be able to learn from the scientists here … it's so beneficial for their growth," Quinn said. "NASA really pushes the bounds of science. It's just amazing to have this opportunity."