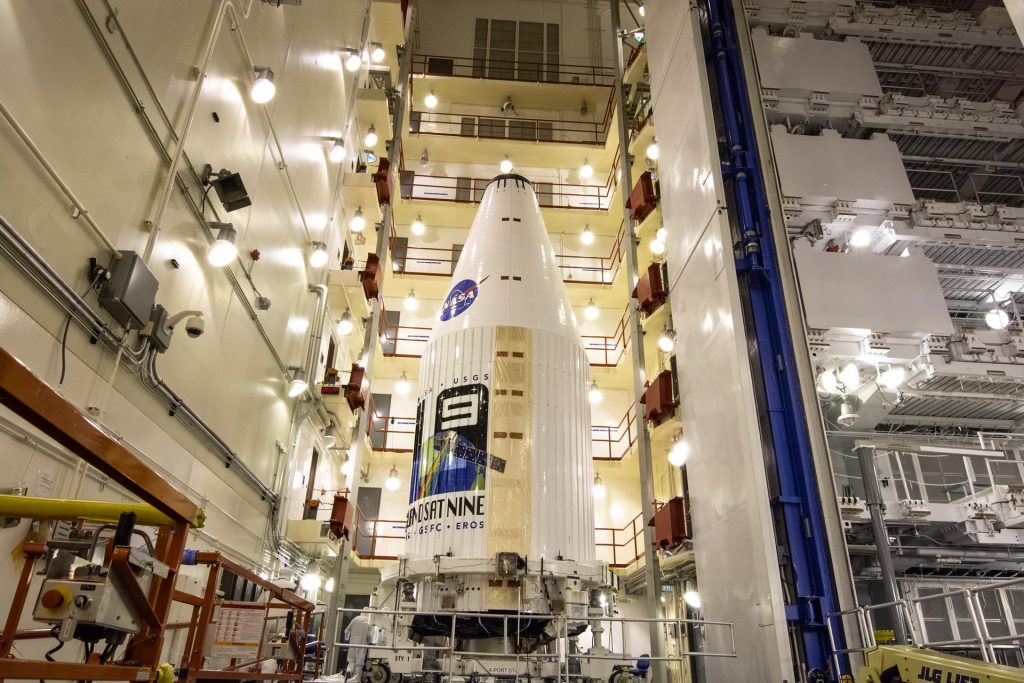 With two days to go until liftoff of Landsat 9, the NASA and the U.S. Geological Survey (USGS) joint mission to monitor Earth's land and coastal regions, everything is on track for Monday's planned launch, with the 30-minute launch window starting at 11:12 a.m. PDT (2:12 p.m. EDT).
The launch team adjusted the launch window by one minute to avoid the CloudSat and Cloud-Aerosol Lidar and Infrared Pathfinder Satellite Observation (CALIPSO) spacecraft, which are circling the globe in an orbit near the one planned for Landsat 9.
"Landsat is the ninth mission in a series, and it is an absolutely critical piece of NASA's science portfolio," said Thomas Zurbuchen, Associate Administrator, NASA Science Mission Directorate. "NASA has had an amazing year of science, launching a lot of technologies to Mars and deep space, and this mission is one of those dedicated to looking at our most beautiful planet."
The U.S. Space Force's Space Launch Delta 30 is predicting an 90% chance of favorable weather conditions for the launch. The primary weather concerns are ground winds.
The historic mission has remained on track, despite challenges from a worldwide pandemic, including current pandemic demands for medical liquid oxygen that impacted the delivery of the needed liquid nitrogen supply to Vandenberg by the Defense Logistics Agency and its supplier Airgas. Airgas converts the liquid nitrogen to gaseous nitrogen needed for launch vehicle testing and countdown sequence.
"We certainly had our challenges with the pandemic and liquid nitrogen supply chain issues causing a seven-day delay," said Launch Director Tim Dunn of NASA's Launch Services Program. "We're back on track, and I'm personally thrilled to be the launch director for Landsat 9. The NASA engineers and analysts, working alongside our United Launch Alliance colleagues, take great pride in launching this mission."
Landsat 9 is scheduled to lift off aboard a United Launch Alliance Atlas V 401 rocket from Space Launch Complex-3 at Vandenberg Space Force Base in California. NASA's Launch Services Program, based at Kennedy Space Center, is managing the launch.
"The 9th Landsat will contribute a great understanding of what's happening to the surface of our Earth," said Karen St. Germain, director of NASA Earth Science Division. "It will provide vital foundational knowledge. Its power is really released when we combine the data from Landsat with our other Earth science missions. The data can tell us not just what is happening, but why."
Landsat 9, managed by NASA's Goddard Space Flight Center in Greenbelt, Maryland, will carry two instruments: the Operational Land Imager 2, which collects images of Earth's landscapes in visible, near-infrared and shortwave infrared light, and the Thermal Infrared Sensor 2, which measures the temperature of land surfaces.
"There's no doubt that the Landsat mission is at the core of the Department of the Interior's important work," said Tanya Trujillo, assistant secretary for Water and Science that the Department of the Interior. "We work every day to protect our natural resources and cultural heritage and provide scientific information about those resources that our communities can rely on."
When it launches, Landsat 9 will join its predecessors in helping scientists track changes to Earth's land surfaces at a scale that shows natural and human-caused change. Currently, both Landsat 7 and Landsat 8 are in a near-polar orbit of our planet. Each satellite repeats its orbital pattern every 16 days, with the two spacecraft offset so that each spot on Earth is measured by one or the other every eight days. Landsat 9 will join Landsat 8 in orbit and will replace Landsat 7, taking its place in orbit.
"For nearly 50 years, Landsat satellites have documented Earth's changing landscapes, said Michael Egan, Landsat 9 program executive for NASA's Earth Science Division. "As the Earth's population approaches 8 billion people, Landsat 9 will continue to provide consistent data about the changing land cover and land use of our planet."
Tune in to NASA TV or the agency's website at 10:30 a.m. PDT (1:30 p.m. EDT) Monday, or follow along right here on the mission blog, for live launch countdown coverage. Learn more about the mission at: https://www.nasa.gov/specials/landsat.