As the warm winds blew, team members of the Low Density Supersonic Decelerator (LDSD) bowed their heads as Uncle Tom Takahashi said a special blessing over the test vehicle during the naming ceremony at the U.S. Navy's Pacific Missile Range Facility (PMRF) on Kauai, Hawaii.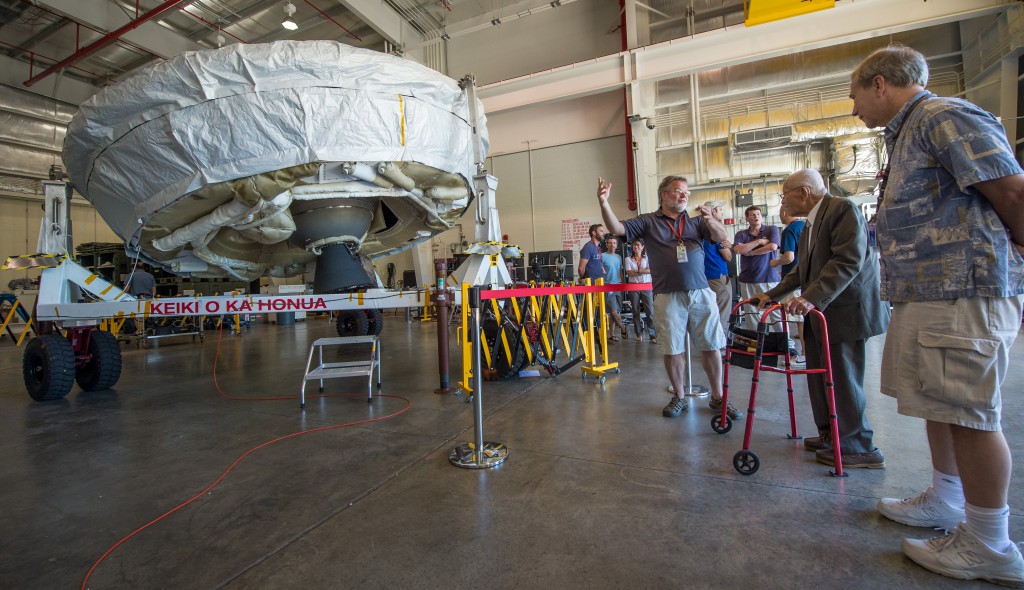 Takahashi named the vehicle "Kalani Ike Ike Kahonua," which means "highest boy in heaven" in the Hawaiian language. Uncle Tom is a native Hawaiian elder from a local church who often names and blesses vehicles.
Last year, Takahashi named the LDSD launch tower "Onikahonua," which means "mover of the Earth" and the 2014 LDSD test vehicle "Keiki O Ka Honua" or "boy from Earth."
NASA's LDSD project will attempt the second flight test June 2 of a rocket-powered, saucer-shaped test vehicle into near-space to demonstrate two breaking technologies that could be used to aid in landing heavy payloads on distant planets like Mars.
As NASA plans ambitious robotic science missions to Mars, laying the groundwork for even more complex human expeditions to come, the spacecraft needed to land safely on the Red Planet's surface will become larger and heavier in order to accommodate explorers extended stays on the Martian surface.