March 26
I havenew leaves!  I am no longer naked to thecosmos.  They are not as big as beforehowever they are just as green.  Broccoliand Sunflower have leaves as well and are vibrant.  We all have happy roots.  This is a hard to explain to a non-plant, butI am feeling very zucchini now.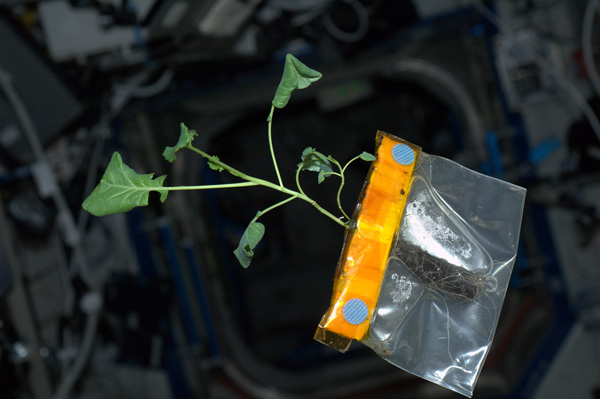 March 27
We areall back in the space flight game. Tomorrow is a big day.  Anunplanted spacecraft is arriving with a cargo of much needed supplies.  If the automatics fail,we as crew have to be prepared to take over in the final stages ofdocking.  I am ready; it will not failbecause of me. 
March 28
Thecargo spacecraft arrived and docked without any problems.  We have had all this training, we haveprepared with leaf and stem just in case things go wrong.  There is a small voice inside that would likethe chance to use this training, thus saving the day in the face of amalady.  On the frontier of space, it isunwise to wish for malfunctions; you do not want to be a hero.
March31
We had along and tiring week.  There was muchactivity that took us well into Friday evening. We were all looking forward to some off duty time.  Gardener said he would treat us to somewindow time.  There is nothing likecatching a few rays to green up the foliage. Saturday morning, the big gardener that speaks from the wall told us thecargo vehicle had an electrical failure and might need to undergo a contingencyundock in the next day or two.  It wasplanned to stay docked for months where we could unpack the supplies in anorderly process over a three-week period. To save our precious supplies, we had one day to do three weeks ofwork.  With all the large bags floatingby, it was good to stay out of the way. Any one of them could have easily smash us into salad.  Later that evening, Gardener came by and wepresented him with our vibrant green and tickled his nose with our fresharoma.  When we saw a tired smile come tohis face, we knew we had done our part in this contingency.
Don's blog also appears at airspacemag.com.