Whatspace station crews call our "mission" is a bit more complicated thanwhat you might think. Under normal operations, there are six crew membersliving on board station. We send up a three-person crew in the Russian Soyuzspacecraft four times a year, and the launches and landings are generally timedfor spring and fall, to avoid severe weather in Kazakhstan.* This results inSoyuz crew overlaps of either four months or two months, with each three-personcrew staying for about six months.
There are a number of advantages in this scheme, particularly during handover,when the newly arriving crew (we're expecting one tonight) learns from the seasoned crew all the onerous nuances impossible to knowexcept by being onboard.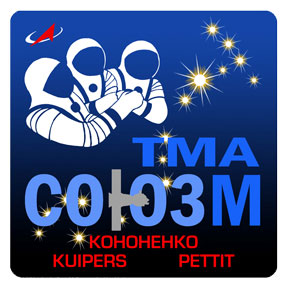 Crews on space station are called "Expeditions," a fitting name for acollection of explorers living on the frontier. Since there are two possiblethree-crew overlaps for each expedition, there are two possible expeditionnumbers that span a set of nine individuals. In addition, each crew of threearrives in a Soyuz with a designated engineering number, plus a space stationmission number and a crew-chosen call sign. Thus, for my mission, I amExpedition 30 for four months, Expedition 31 for two months, and a crew memberfor Soyuz TMA-03M and Soyuz 29s, with call sign Antares.
This all gets multiplied by two, since we automatically function as backupcrews for the mission that flies six months before us. So I am also backup crewfor Expedition 28/29, on Soyuz TMA-02M and Soyuz 27s, with call sign Eridianus.
Then there are the management teams on the ground. These are people who workrelentlessly through weekends and holidays to support the lucky crew members onspace station. These management teams are called "Increments," andthey have numbers that usually correspond to the expedition numbers. Sometimes,though, these can get shifted to adjacent mission numbers. Of course, thenomenclature for increments, like expeditions, also gets multiplied by two,since every prime crew participates as backup crew for an earlier increment.When talking to crewmembers, people will speak in expeditions; when talking toNASA planners, they will speak in increments. Like the blind men feeling theelephant, we tend to describe our work from our immediate perspective. It isunderstandable that these subtleties can lead to confusion.
That's why, when someone asks me what mission I am flying, the answer mightlead to a conversation something like this: "I am backup crew forExpedition 28/29, also known as Increment 28/29, in Soyuz TMA-02M, or Soyuz27s, called Eridianus, but am prime crew for Expedition 30/31 in Increment30/31 for Soyuz TMA-03M, or Soyuz 29s, called Antares." This kind ofanswer baffles even my fellow astronauts. I have decided that my missionidentity is simply going to be dictated by the one with the largest three-crewoverlap. Hence, I call myself Expedition 30. If you want the details, beprepared to settle in for a long conversation.
*There are exceptions. Expedition 29 (also known as Expedition 30, Increment29, Increment 30, Soyuz TMA-22, or Soyuz 28s, with call sign Astraeus) slippedtwo months and launched in a November snowstorm so severe that from the viewingstation only 1½ kilometers away, neither the rocket nor the launch pad werevisible. At engine ignition, the TV cameras discovered they were pointed in thewrong direction, and quickly panned to the rocket, which appeared like a giant,slowly moving road flare-which was visible for perhaps 15 seconds before becomingcompletely obscured.