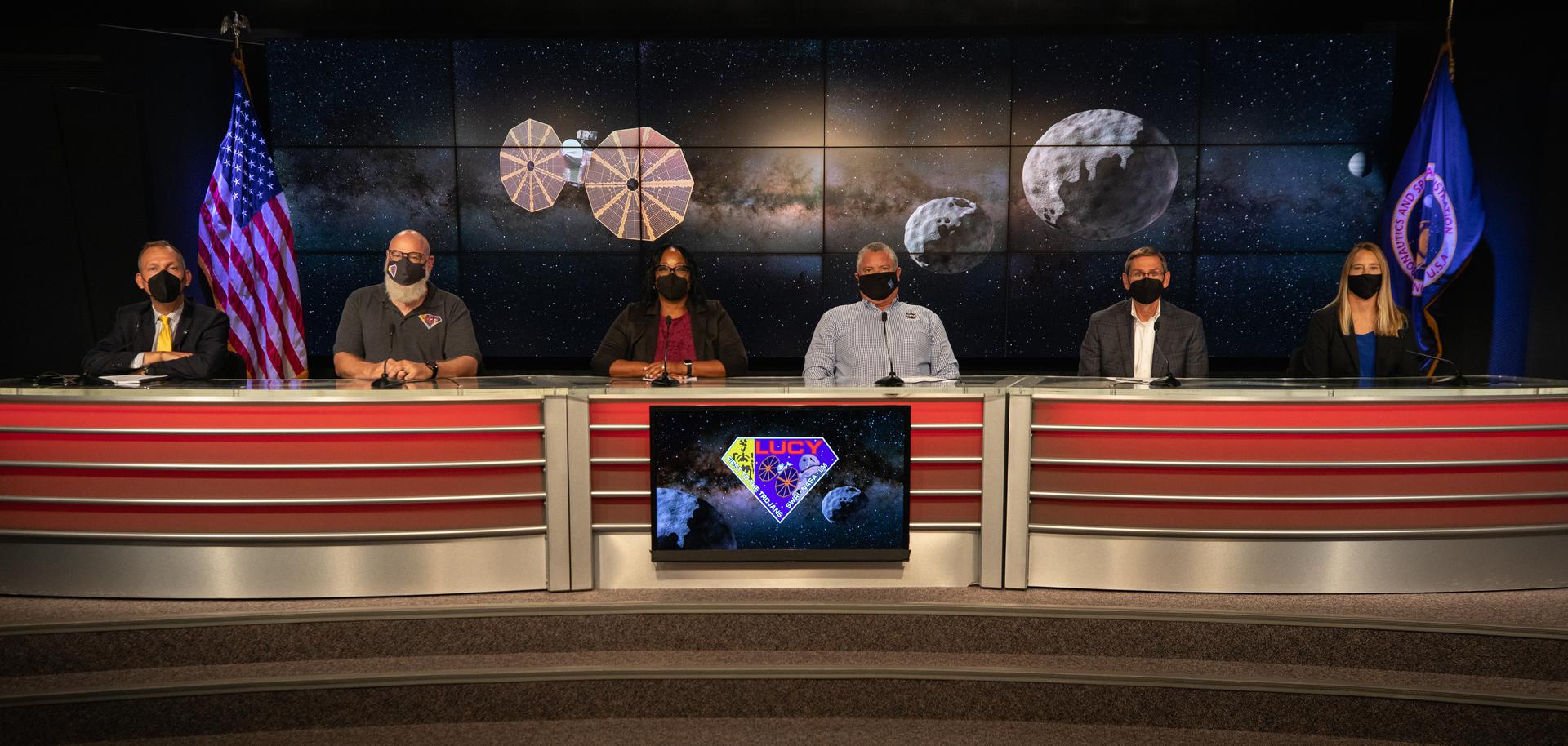 Teams gathered to hear presentations from key mission managers as part of an in-depth assessment on the launch readiness of the ULA Atlas V 401 rocket, mission operations, support functions, and the readiness of the Lucy team to support the launch.
After the launch director polled each partner, it was determined that Lucy was ready to launch.
Following the LRR, mission managers with NASA and United Launch Alliance (ULA) shared their excitement and answered questions about the agency's Lucy mission during a prelaunch news conference today at Kennedy Space Center in Florida.
Updates on the mission were provided by Thomas Zurbuchen, associate administrator, NASA's Science Mission Directorate, along with Omar Baez, Lucy launch director, NASA's Launch Services Program (LSP), and John Elbon, chief operating officer, ULA.
"At the heart of Lucy is the science and how it's going to talk to us about the Trojans," Zurbuchen said. "I keep thinking about these millions of pieces out there that we haven't observed and how it's so important to go observe them because just like so many of these small worlds, these asteroids that tell us about a chapter of our own story, our own history, in this case, the history perhaps 4 billion years ago or so when the outer planets were forming in the solar system."
"LSP is excited about the launch of Lucy this Saturday," Baez said. "Our team is ready, and we look forward to a beautiful launch."
Also participating were Hal Levison, Lucy principal investigator, Southwest Research Institute, and Donya Douglas-Bradshaw, Lucy project manager at NASA's Goddard Space Flight Center.
"This team has put in so much work in to building a spacecraft that is truly a work of art," Douglas-Bradshaw said. "It took a team of more than 500 engineers, scientists, and business folks to conceptualize and build the spacecraft that's going to achieve this amazing science."
Lucy is scheduled to launch no earlier than 5:34 a.m. EDT Saturday, Oct. 16, on a ULA Atlas V 401 rocket from Space Launch Complex 41 at Cape Canaveral Space Force Station in Florida. NASA's Launch Services Program, based at Kennedy Space Center, America's premier multi-user spaceport, is managing the launch.
According to Jessica Williams, launch weather officer with the 45th Weather Squadron, Space Launch Delta 45 at the Cape, launch of the Lucy spacecraft is 90 percent "go," with only a 10 percent chance of violating a weather constraint, the cumulus cloud rule.
During its 12-year primary mission, Lucy will explore a record-breaking number of asteroids, including a flyby of one asteroid in the solar system's main belt and seven Trojan asteroids near Jupiter. Lucy's path will circle back to Earth three times for gravity assists, making it the first spacecraft to return to the vicinity of Earth from the outer solar system.