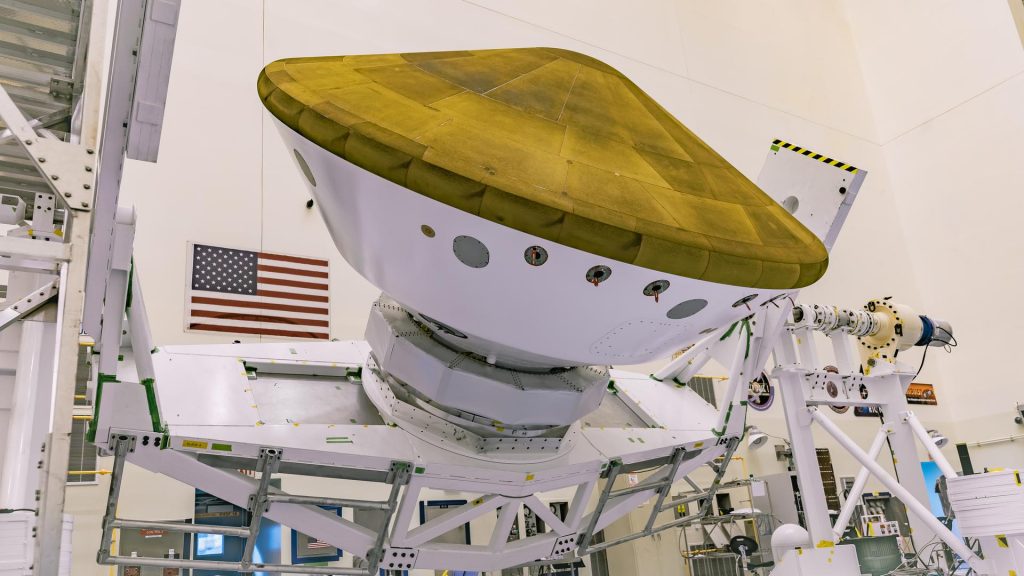 Continuing on its path to preparation for next month's launch, NASA's Mars Perseverance rover spacecraft is, well, put together.
Inside the Payload Hazardous Servicing Facility at the agency's Kennedy Space Center in Florida, the Backshell-Powered Descent Vehicle and Entry Vehicle assemblies are now attached to Perseverance. The cone-shaped backshell contains the parachute, and along with the mission's heat shield, will provide protection for the rover and descent stage during entry into the Martian atmosphere.
Recently, the rover's ULA Atlas V booster was lifted up in the Vertical Integration Facility at Launch Complex 41 at Cape Canaveral Air Force Station (CCAFS) in Florida.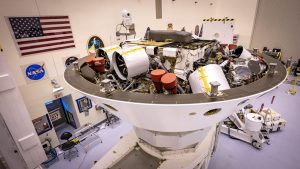 Activities have continued to ramp up with the attachment of the four solid rocket boosters (SRBs) one-by-one to the sides of the Atlas V 541 rocket, followed by the Centaur upper stage. The Centaur can control its orientation precisely, while providing up to 22,300 pounds of thrust. The spacecraft will be mated to the Atlas V rocket on June 22.
The assembly, test and launch operations team from NASA's Jet Propulsion Laboratory and United Launch Alliance (ULA) engineers have hit multiple key milestones in the past two months, keeping Perseverance on target for its launch to the Red Planet in mid-July. These include attaching the aeroshell backshell and attaching the rover to its rocket-powered descent stage, rotating and spinning the descent stage on two separate measuring fixtures to pinpoint its center of gravity, and attaching NASA's Mars Helicopter, recently named Ingenuity, to the belly of the rover.
Perseverance will reach Mars on Feb. 18, 2021, touching down on the surface of Jezero Crater. Developed under NASA's Mars Exploration Program, the rover's astrobiology mission will search for signs of past microbial life.
The rover, carrying seven different scientific instruments, will lift off from Cape Canaveral Air Force Station. Launch is scheduled for Monday, July 20, at 9:15 a.m. ET, with a two-hour window. NASA's Launch Services Program based at Kennedy is managing the launch. For more information on Perseverance and its mission, visit the mission website.