By Jim Cawley
NASA's Kennedy Space Center
With two days to go until NASA's Mars 2020 Perseverance rover blasts off on its seven-month journey to the Red Planet, everything is proceeding as planned.
On Tuesday, July 28, the rover made the one-third-mile trek from United Launch Alliance's (ULA) Vertical Integration Facility to Cape Canaveral Air Force Station's Space Launch Complex 41 in Florida. Now positioned at the pad, Perseverance is scheduled to launch aboard a United Launch Alliance Atlas V 541 rocket on Thursday, July 30. The two-hour window opens at 7:50 a.m. EDT. NASA's Launch Services Program, (LSP) based at Kennedy, is managing the launch.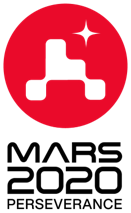 Weather reports are positive. The U.S. Air Force 45th Weather Squadron is predicting an 80% chance of favorable weather conditions for the launch. The primary weather concerns are cumulus and thick clouds.
Several obstacles — including navigating a worldwide pandemic — have been overcome to keep the mission on schedule.
"COVID has placed a heck of a burden on us to get through this," Launch Director Omar Baez, LSP, said during Tuesday's NASA Edge Rollout show. "So it lives up to its name, Perseverance, and we're living it every day."
"It has been quite the learning experience for the whole program — and the agency," Baez continued. "But now, we're really excited."
Also Tuesday, NASA's Kennedy Space Center hosted a pair of live shows highlighting the importance and impact of Perseverance's mission: a Mars Sample Return briefing and a Mission Technology and Humans to Mars briefing. The rover will collect and store a set of rock and soil samples that could be returned to Earth by future Mars sample return missions.
"We're looking to accomplish one of the most complex things humanity has ever attempted," Mars Sample Return Program Director Jeff Gramling said. "With the launch of Perseverance will be the first step in a mission to bring back samples from another planet."
Developed under NASA's Mars Exploration Program, the rover will search for signs of past microbial life and help scientists better understand the geology and climate of Mars. Perseverance will reach Mars on Feb. 18, 2021, touching down on the surface of Jezero Crater. Lessons learned from the mission will pave the way for human exploration of the Red Planet.