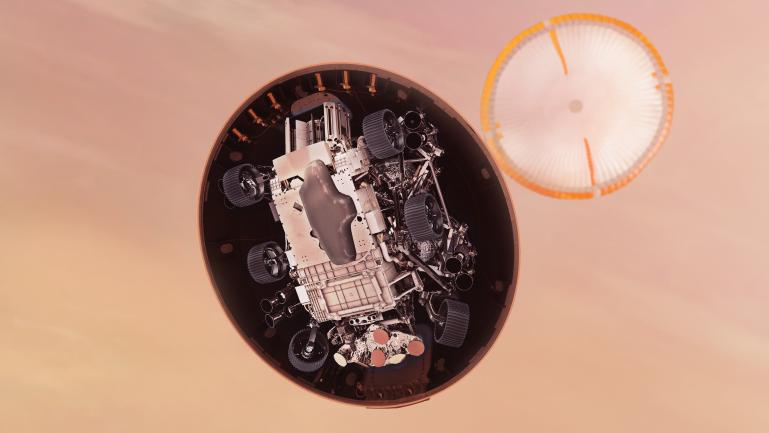 Some 201 days after launch from Cape Canaveral, Florida, the Perseverance rover has just under three more days of "cruise" before its planned Feb. 18 landing at Mars' Jezero Crater. As of Feb. 14, the rover had traveled over 288 million miles (464 million kilometers) of its 292.5-million-mile (470.8-million-kilometer) journey to the Red Planet. The spacecraft is about 124 million miles (about 200 million kilometers) from Earth and about 514,000 miles (827,000 kilometers) from Mars. The mission team reports spacecraft velocity is 64,123 mph (103,197 kph) relative to Earth, 5,750 mph (9,253 kph) relative to Mars, and 48,004 mph (77,255 kph) relative to the Sun. One-way light time – the time it takes for a signal to travel from Earth to the spacecraft – is 11 minutes, 2 seconds.
During the cruise phase of the mission (the time between launch and landing), engineers on Earth have been keeping close tabs on the spacecraft. Major activities during cruise have included:
Checking spacecraft health and maintenance
Monitoring and calibrating the spacecraft and its onboard subsystems and instruments
Performing attitude correction turns (slight spins to keep the antenna pointed toward Earth for communications and to keep the solar panels pointed toward the Sun for power)
Conducting navigation activities, such as trajectory correction maneuvers, to determine and correct the flight path before atmospheric entry.
Preparing for entry, descent, and landing (EDL) and surface operations, a process that includes tests of communications, including the communications to be used during EDL.
While Perseverance is getting ready to land this Thursday, Feb. 18, you can get ready, too! Use this toolkit to get the latest updates, download materials, and tune into programs as we get ready to #CountdownToMars. The first of many pre-landing news briefings begin Tuesday, Feb. 16, at 10 a.m. PST (1 p.m. EST). You can view the full schedule – including educational shows, news briefings, and landing-day commentary – at our "Watch Online" guide.