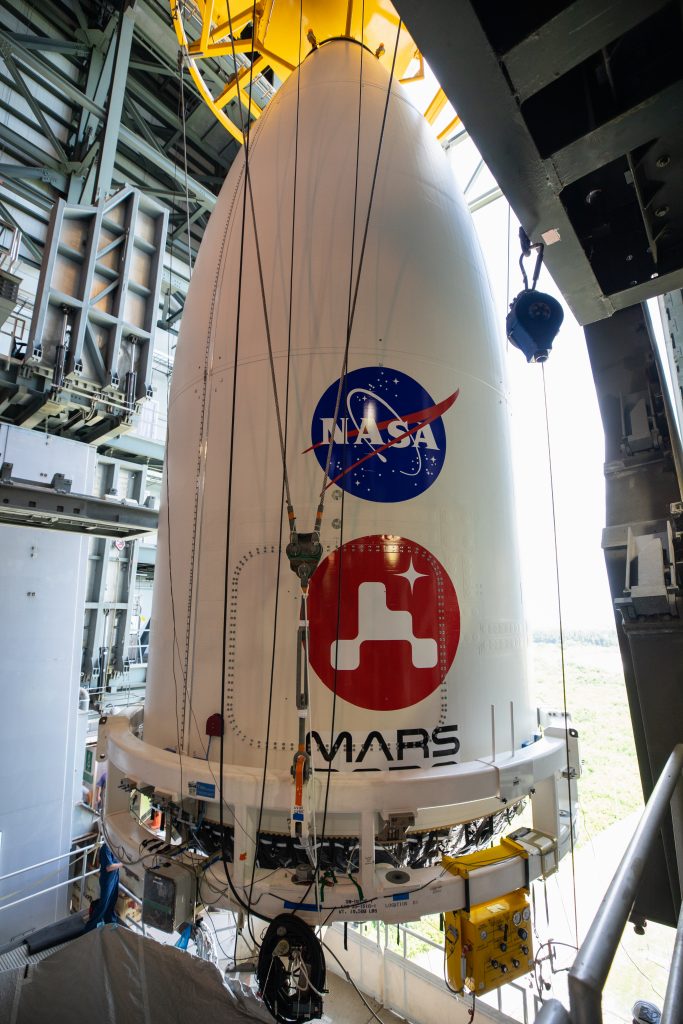 NASA's Mars Perseverance rover is now attached to the rocket that will carry it on its seven-month journey to the Red Planet for the agency's Mars 2020 mission.
On Tuesday, July 7, a team of engineers fastened the payload fairing, containing the rover and remainder of the spacecraft – the aeroshell backshell, descent stage and cruise stage – to a United Launch Alliance (ULA) Atlas V booster inside the Vertical Integration Facility (VIF) at Cape Canaveral Air Force Station's Space Launch Complex 41 in Florida. The rocket's upper stage and spacecraft will remain attached until about 55 minutes after launch, after which the two will separate, sending Perseverance on its solo journey to Mars.
With the spacecraft and booster now connected, final testing of the two – separately and together as one unit – can begin. Once those tests are complete, the rocket will leave the VIF on the morning of July 28 for its journey to the launch pad – just 1,800 feet away.
NASA and United Launch Alliance are now targeting Thurs., July 30, at 7:50 a.m. ET, with a two-hour window, for launch of the Mars 2020 mission. The team identified the cause of the issue with the liquid oxygen sensor line found during Wet Dress Rehearsal (WDR). A small leak was located in the weld of the line, which has been repaired and tested.
The rover, carrying seven different scientific instruments, is slated to arrive at the Red Planet on Feb. 18, 2021, regardless of what day it lifts off during the launch period. During its time on Mars, Perseverance will search for signs of past microbial life and collect rock and soil samples of the Martian surface for future return to Earth.
The mission, managed by NASA's Science Mission Directorate and the Jet Propulsion Lab (JPL), will provide key insight into some of the challenges associated with future human exploration of Mars. NASA's Launch Services Program based at Kennedy Space Center is managing the launch.
For more information, visit the mission website.