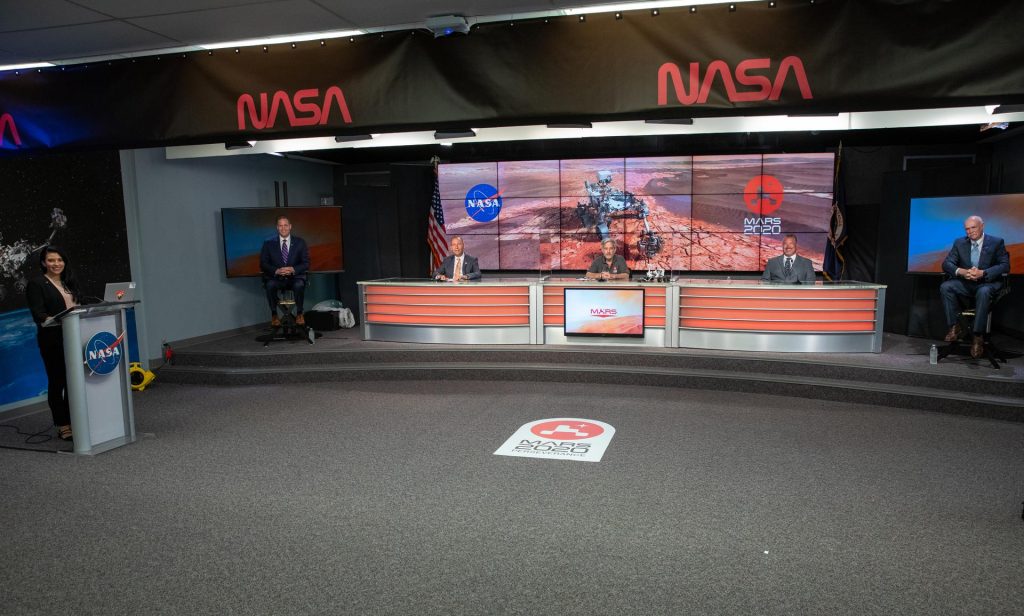 By Jim Cawley
NASA's Kennedy Space Center
With three days to go until liftoff of NASA's Mars 2020 Perseverance rover, everything is on track for Thursday's planned launch to the Red Planet.
"The launch readiness review is complete and we are indeed 'go' for launch," NASA Administrator Jim Bridenstine said during Monday's news conference at the agency's Kennedy Space Center in Florida. "This has been an amazing team effort."
Perseverance is scheduled to lift off aboard a United Launch Alliance Atlas V 541 rocket from Cape Canaveral Air Force Station's Space Launch Complex 41. The two-hour window opens at 7:50 a.m. EDT. NASA's Launch Services Program, based at Kennedy, is managing the launch.
The U.S. Air Force 45th Weather Squadron is predicting an 80% chance of favorable weather conditions for Thursday's launch. The primary weather concerns are cumulus and thick clouds.
The historic mission has remained on track, despite unprecedented challenges from a worldwide pandemic.
"We are in extraordinary times right now with the coronavirus pandemic, and yet we have, in fact, persevered," Bridenstine said. "And we have protected this mission because it is so important."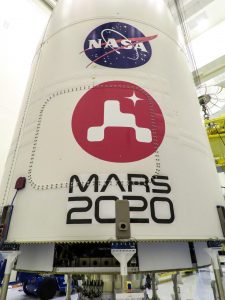 Perseverance, which will reach Mars on Feb. 18, 2021, is carrying seven different scientific instruments. The rover's astrobiology mission, developed under NASA's Mars Exploration Program, will search for signs of past microbial life. Ingenuity, a twin-rotor, solar-powered helicopter attached to the belly of the rover, will become the first aircraft to fly on another world.
"I just couldn't be happier to be here today and have this amazing mission on top of a rocket and ready to go," said Thomas Zurbuchen, associate administrator, NASA's Science Mission Directorate. "From this launch readiness review … all the issues are addressed and we are in fact ready now; we're just counting down and really celebrating with the team."
Perseverance will collect samples from the Red Planet that could be returned to Earth on a future mission. These samples would provide unprecedented information about the Martian climate and weather.
"We're doing transformative science; really for the first time, we're looking for signs of life on another planet," said Matt Wallace, deputy project manager, NASA's Jet Propulsion Laboratory.
The mission has involved thousands of people in a cross-agency effort that included scientists from around the world. In the U.S., flight hardware was built in 44 states, involving more than 550 cities, towns and communities.
"So no matter where you are in this country, you don't have to go very far probably to find somebody who has been a part of this mission," Wallace said. "It's a tremendous team effort."
Multiple events will be broadcast Tuesday on NASA Television and the agency's website: NASA Edge Rollout show, from 10 to 11 a.m.; Mars 2020 Mars Sample Return briefing, from 2 to 3 p.m.; and Mars 2020 Mission Tech and Humans to Mars briefing, from 4 to 5 p.m.
From noon to 1 p.m. Wednesday, there will be a briefing featuring Bridenstine, NASA Deputy Administrator Jim Morhard, Kennedy Deputy Director Janet Petro, and astronaut Zena Cardman.
Follow along at blogs.nasa.gov/Mars2020 for live countdown and launch coverage starting Thursday at 7 a.m.