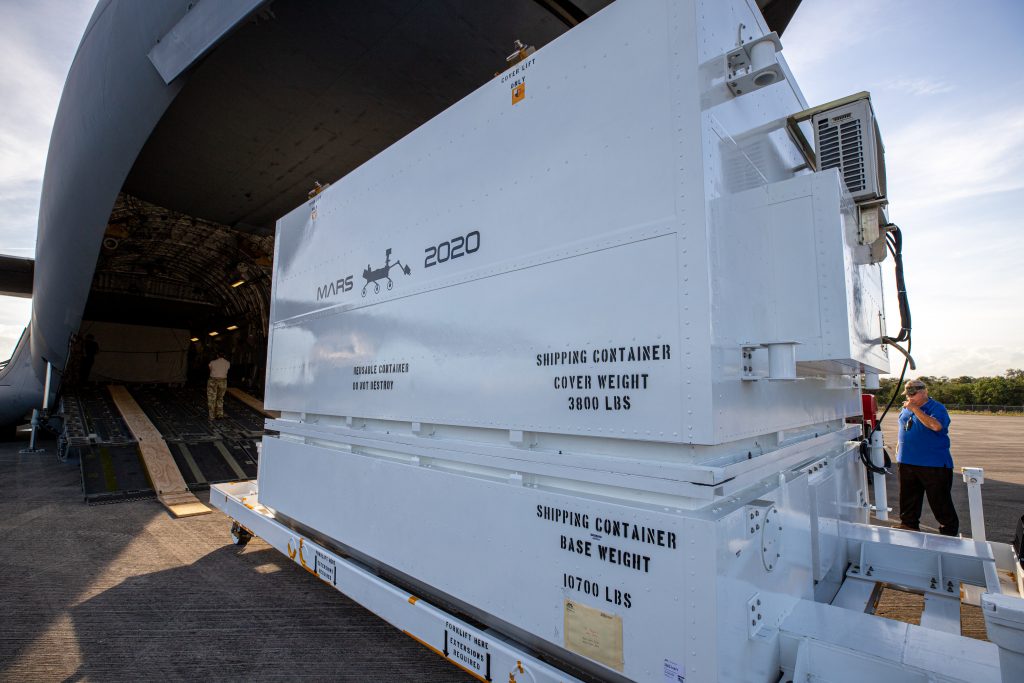 Leaving from its temporary home at NASA's Jet Propulsion Laboratory (JPL) in Pasadena, California, the Mars 2020 rover completed a cross-country trip Wednesday afternoon. It arrived on a C-17 aircraft to the Launch and Landing Facility (formerly the Shuttle Landing Facility) at NASA's Kennedy Space Center in Florida.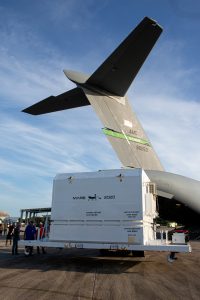 The spacecraft was then moved to Kennedy's Payload Hazardous Servicing Facility (PHSF), where it is being unboxed today. Before making the trek to the Florida spaceport, the Mars 2020 rover traveled about 70 miles southeast from JPL to March Air Reserve Base.
Carrying seven different scientific instruments, the Mars 2020 rover will land on the Red Planet on Feb. 18, 2021. Liftoff, aboard a United Launch Alliance Atlas V 541 rocket, is targeted for mid-July from Cape Canaveral Air Force Station. NASA's Launch Services Program based at Kennedy is managing the launch.
About the size of a car with dimensions similar to the Curiosity rover, the Mars 2020 rover was developed under NASA's Mars Exploration Program. The mission aims to search for signs of past microbial life, characterize the planet's climate and geology, collect samples for future return to Earth and pave the way for human exploration of Mars.
Last month, multiple important tests were performed on the Mars 2020 rover aeroshell inside the PHSF, including measuring the center of gravity and moments of inertia on the spin table, as well as lift activities. The rover's heat shield and back shell arrived at Kennedy from Lockheed Martin Space in Denver, Colorado, on Dec. 11, 2019. The spacecraft was manufactured at JPL.
Check out the mission's website for more in-depth information on the Mars 2020 rover.