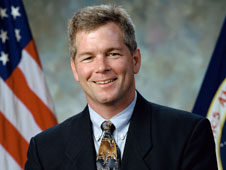 (Photo: Acting Manager, Steve Doering)

As I begin my second full month as acting manager here at MAF, NASA is facing a major transition and with transition will come change.  I'm confident that MAF will continue to play a significant role in the future of human space flight.
As many of you know, a summary report from the Augustine panel was delivered last month to NASA. The final report is still being compiled and edited and will be released after the committee completes its work.  NASA is awaiting the final report and is working with the Office of Science and Technology Policy and the Executive Office of the President to plan the next steps leading to a decision by the President.   NASA will be working with the administration to determine how best to shape the agency's human space flight efforts for the future.  However, until the committee's final report is released and the options thoroughly considered, it is premature to draw conclusions about any changes in human space flight plans.
Meanwhile, MAF is staying focused on it current missions.  As we heard from NASA Administrator Charlie Bolden during his visit to MAF in August, the President is committed to a strong human spaceflight program.  Here at MAF, we continue to deliver External Tanks for the remaining Space Shuttle missions.  We are building hardware for the Orion capsule, and finishing the facility modifications for full production.  Ares Upper Stage has completed designs for their major facility work, and many components of manufacturing tooling have been delivered. 
The MAF workforce is the most dedicated and skilled group of folks around and I am proud to join the team.  Continue to work hard and focus on what we've been doing successfully for many years.
Steve Doering
Acting Manager
Michoud Assembly Facility