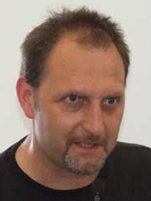 One of the most familiar faces at the Great Moonbuggy Race in recent years is that of Ralf Heckel, the team advisor for the student racers from the German Space Education Institute in Leipzig. For the past three years, Ralf and his wife Yvonne have led their team across the pond with so much energy and enthusiasm even competitors end up rooting for them! Here, Ralf describes where that energy comes from. His English isn't flawless — but see if you don't get the same thrill we do from Ralf's indomitable spirit.

Hello friends:
 
NASA is planning the celebrations to 40 years men on the moon (Apollo 11). Russia is planning the celebrations to 50 years mankind on the moon (Luna 2). Both have their own projects: NASA will launch the LCROSS and Ares 1 and Russia is planning the infrastructure for a space station in the moonorbit. The Russian-led Mars 500 project is launching, and we are in as designers for the Marsrover, with our international team of student engineers. No challenge is too high for these students — everyone will find a way.
 
It is not longer a race — it is a journey, side by side. Nothing is science fiction. We are living in the future and this is great.
 
NASA's annual Great Moonbuggy Race is not a game — it is hard reality. You must make a hard and good job to reach an award. But this award you will have lifelong, and it is a step into all our futures.
The last two weeks were holidays in Germany. Our students use all this time for their Moonbuggy. We are competitors three years now. In 2007, our first year, we made a very good job — in six weeks from a white paper to a Moonbuggy. The results were grand: Rookie Award and Best Design Award.
Some parents and teachers don't understand the core values of the contest. They said: "What, for a curious soapbox-race?" It is really not easy to earn respect in the car nation of Germany! Now, Prof. Natalya Korolev, the daughter of Sputnik designer Sergei Korolev, is supporting the international idea of the Moonbuggy Race. She was in Huntsville 2008. We traveled three times to the USA and three times to Russia last year — all for this international idea!
2009 is the last year for our German Moonbuggy in steel. The future is composite, starting in 2010. For this material you need lots of science data. So our Moonbuggy Team has two new sections: electronic and software. In 2008, we had a telemetry system to see the tracking of our moonbuggy on the course. Now [our self-written] software analysis program can show you the exact speed, acceleration and forces. With a, onboard video camera, our pilots can see their mistakes.
The 2009 Moonbuggy will have lots of more sensors, a data logging system and a data radio transmission. The software for the radio transmission and telemetry analysis is ready and works very well. The software to make analysis of the sensor data is far from ready. Our specialists will need time to have first results. These we will use next year.
 
Last week Thommy and Sasha finished the changes to the chassis. They used Corel Draw and Solid Works for CAD. Thommy use the calculations for the moonbuggy transmission for his final secondary-school examinations this year. They were in a factory to finish their work — welding, drilling, bending.
Christian finished his differential gear on the computer. It is a high-tech construction, with 92 different parts to use for two drivers. The lathe operator [first] saw the outlines and said: "Not possible." Today he tested the first set of parts and said, "Excellent work!" Christian has a big future as a CAD designer.
The 2008 German team can be seen here. We'll add more pictures of the 2009 team in action later this week, and Ralf will be back soon with more updates on their progress toward race day.
To download more pictures of the German team on tour across Europe and in action on the course, download this Zip file. If you'd like to contact Ralf to talk moonbuggy tech, drop him a line at ralf.heckel@spacepass.de.