Greetings from Huntsville, Ala., the race capital of the world — if you're driving a sweet, tricked-out moonbuggy, that is.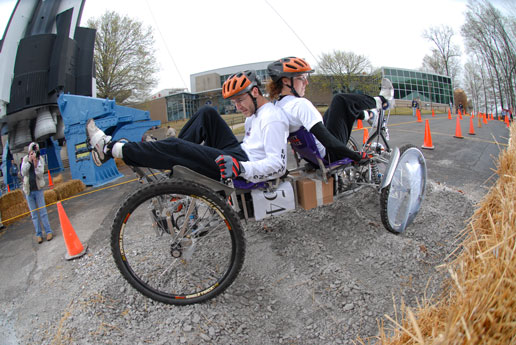 Student racers from the University of Evansville in Evansville, Ind., speed to
victory in the college division of NASA's 15th annual Great Moonbuggy Race in
April 2008. (NASA/MSFC/Emmett Given)
NASA and more than 500 students from high schools, home schools, colleges, vocational schools and universities around the world are gearing up for the 16th annual NASA Great Moonbuggy Race, to be held here at the U.S. Space & Rocket Center April 3-4.
If you know about the Great Moonbuggy Race, you know it's a big cornerstone of our education outreach here at NASA's Marshall Space Flight Center, which organizes the event each year. It's also the culmination of a lot of work on the part of dozens of race teams, made up of bright, energetic young people from all over America and as far away as Puerto Rico, Canada, Germany, India, Mexico and Romania.
If you don't already know everything there is to know about the moonbuggy race, do yourself a favor and check it out — it's the most fun you can have on four wheels.
As I write this, 88 teams have registered for this year's contest. Some have spent weeks or months designing their moonbuggies — lightweight, two-person racers based on the design of the original NASA lunar rovers used in the early 1970s during the Apollo missions. Now the teams are assembling their buggies, field-testing them and preparing themselves — because those who've been here before know the simulated lunar race course here in Huntsville is not for the faint of heart. Or the weak of soldered joint.
A number of this year's racers have agreed to check in with us in the weeks leading up to the race. They'll write about the engineering hurdles they're overcoming, insider tips on conquering the grueling otherworldly track, and their various moonbuggy-related adventures between now and race day.
And on April 3-4, we'll talk live with the racers, post their race reactions — and even provide up-to-the-minute race results via Twitter. So stay tuned, and let's race!