Lindsay Los, 21, is a third-year mechanical engineering student at Carleton University in Ottawa, Ontario. Last year, as Carleton's female moonbuggy driver, she helped push her team to third place in the college division. She's driving again this year, and she aims to win.
It's Carleton's "Reading Week" this week — a break in the school routine for some "frantic catching up," Lindsay says, prior to mid-terms — but she also found time to write about her team for the Buggy Blog:
---
Optimism, dedication, enthusiasm, and great spirit — these are just a few of the words Professor Kaya, our faculty supervisor, used to describe our team's attitude over the past six months — especially given the fact that we haven't had a lot of financial support from the university. Our team did not let any bumps in the road stop them, however, and with less than 50 days left till race day, we are well on our way to completing the buggy that we hope will help us defend our bronze medal! 
After four months of designing the buggy, we finally completed a working design we were happy with. Now it was off to the Carleton Machine Shop to get the action started!

Carleton team members Curtis Parks, front, and Chris Polliwick use a circular saw
in the school's  machine shop to cut aluminum for their buggy.
Because our team is competing for shop time with multiple other engineering projects, we decided to speed up the building process by taking matters into our own hands. Fortunately our project manager Curtis Parks' family has a fully equipped machine shop at their house, just waiting for our moonbuggy!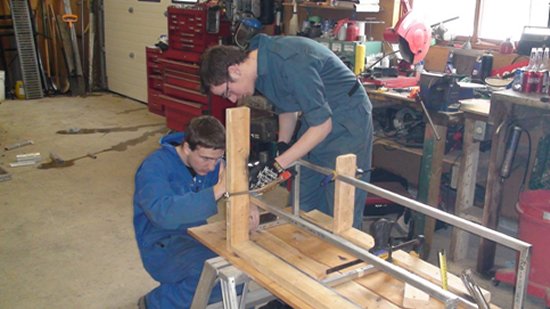 Team members Chris Polliwick, left, and Brian Mattock work on the moonbuggy's frame.
We loaded up all the cut aluminum and drove four hours to Peterborough, Ontario, where our personal machine shop was waiting. Twenty hours of welding, three sunburns and one hot tub party later, we had two completed moonbuggy frames. (As it turned out, the sunburns may have been a positive thing — and may even have gotten Curtis an awesome summer job!  When asked about his incredibly red and slightly puffy eyes in a job interview several days later, Curtis was able to launch into an exciting spiel about the moonbuggy, the hands-on engineering experience he was getting and how amazingly applicable it would be in an engineering workplace. I'd definitely hire him!)
Lindsay conducted a quick interview with Curtis, also a third-year mechanical engineering student, during their work in the machine shop. Some excerpts:
L: How did you get involved in "MB03," our Moonbuggy project?
C: Last year's moonbuggy project needed some help in the machine shop, and I was asked since I already had some experience. Then I started to get more involved with the design, because I found it really interesting.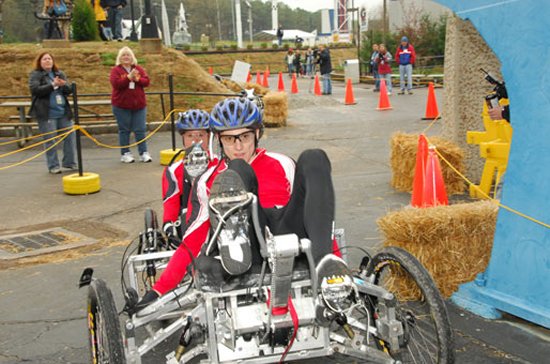 The 2008 Carleton team pedals its way to third place in the 15th annual
Great Moonbuggy Race.
L: What's your favorite thing about being involved in MB03? 
C: The competition. Driving down to Alabama last year and being at the competition was such a cool experience — especially things like talking to the NASA engineers who worked on the original projects, and meeting other teams from around the world. Also, being project manager this year has been really interesting and fun. 
We'll check in with Lindsay and Team Carleton again soon — once mid-terms are behind them!