Savvy racers know their competition, and few names fire up moonbuggy teams like the Huntsville Center for Technology. One of two HCT teams took first place in the high school division in 2006, the school took first AND second place in 2007, and last year they continued to eat up the top slots, coming in second and third behind new champs from Erie High School in Erie, Kan.
The Buggy Blog encourages all new racers to drop by HCT's pit area, talk with the team — and then give them the race of their lives! Here's team honcho John Stingel, man of few words, with some introductory thoughts:
The Huntsville Center for Technology is back for another year!
We've enjoyed being international Great Moonbuggy Race champions and would like to do it again. This year we will be entering two moonbuggies. Students have been training harder now that we have our new in-house moonbuggy track at the school.
We would like to Skype with a school that has a moonbuggy team or perhaps is thinking about entering. If you are interested, e-mail us.
Some photos:

Students training on our new in-house Moonbuggy track (Photo: HCT)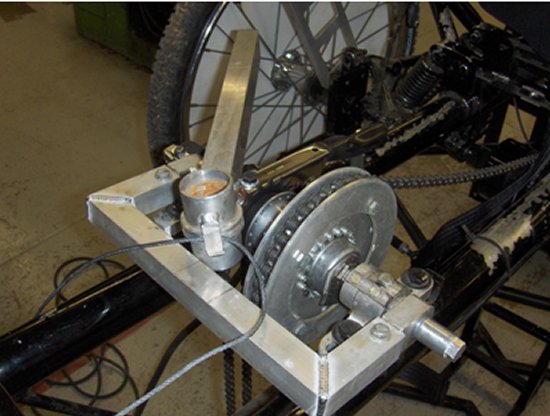 We have been hard at work redesigning elements of our moonbuggy. (Photo: HCT)

Some of the repairs we had to make were obvious… (Photo: HCT)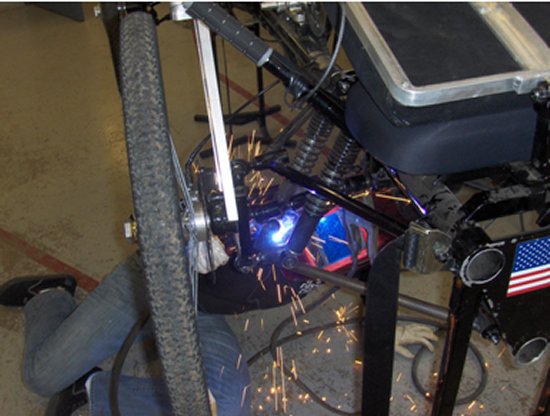 … and some not so easy and not so obvious! (Photo: HCT)

Last year's winners in action: Huntsville Center for Technology Team II riders, left,
pedaled into second place at the 15th annual Great Moonbuggy Race, held April 4-5, 2008.
HCT Team I, right, took third place.  (Photos: NASA/MSFC/
David Higginbotham)
The school is gunning to retake the championship in 2009. Can your team keep that from happening?