Got an innovative idea for a three-wheeled moonbuggy? Placing your riders side-by-side, or back-to-back? How about a custom paint job? Whitewall tires? Cupholder? What unique spin will your team put on its moonbuggy design to win the "Best Design" award come race day?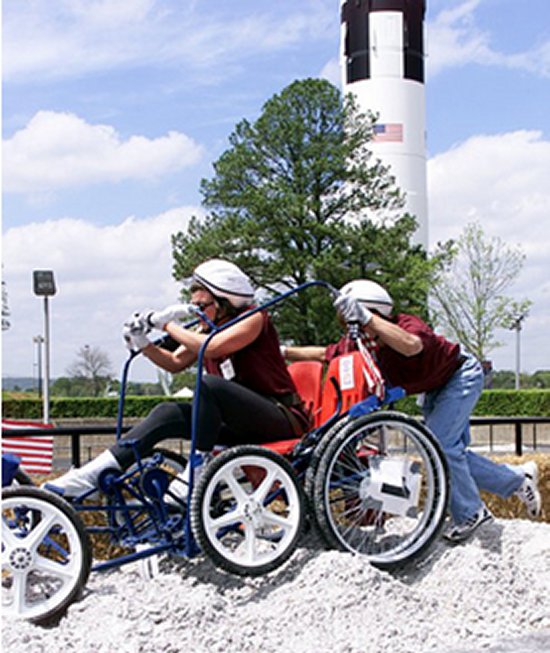 This six-wheeled moonbuggy built for the 2000 race by students from Autauga
County Technology Center in Prattville, Ala., couldn't stand up to a punishing
gravel pile. How will your moonbuggy stack up? (NASA/MSFC)
"I think our design award guys get a little frustrated, because you just don't see quite the same colorful variety of vehicle designs anymore," says Mike Selby, NASA engineer and GMBR head scorekeeper. "Teams take on the course and endure breakdowns and learn from them. They go back and revise their designs for next year's race, and they talk to one another — and so, over the years, a basic, proven design strategy has emerged."
Innovation is still out there, of course — just ask German team advisor Ralf Heckel about composite materials, electronics and onboard software! But in terms of basic structural design, latter-day moonbuggy entries tend to look a lot alike.

Pick up the pieces and run! A team from New Century Technology High School in
Huntsville, Ala., also ran into problems in the 2000 Great Moonbuggy Race.
Pretty standard vehicle configuration… but that mainframe just couldn't take the
pounding. (NASA/MSFC)
"You do still see some three-wheeled buggies now and then," Selby says, "but that's a lot of stress and punishment to put on just one wheel, whether it's in the front or the back. Those vehicles often just don't hold up over what turns out to be a pretty punishing course.
Are new teams prepared for all that punishment? "New teams may have a basic understanding of what they're getting into," Selby says, "but a lot of veteran racers agree — you've got to come to Huntsville and actually compete in the race one year before you really get it. Because no matter how many pictures you've seen, how much you've studied the layout online… this course can really be a surprise once you're on it."
Fitting Inside the Box
It's not just the course that can be a surprise. Engineering teacher Kanika Vessel, who advises the moonbuggy team at Scotlandville Magnet High School in Baton Rouge, La., told the Buggy Blog her racers dealt with another surprise in 2008, their first year as competitors:
Scotlandville's team really struggled last year when it came time to assemble the moonbuggy for the race. Due to the fact that the buggy was not able to fit within the 4-foot-by-4-foot-by-4-foot box, we were forced to remove items from the moonbuggy, such as steering and the wheels — therefore adding to our assembly time.
This year we have designed the frame of the moonbuggy so that we will not have to disassemble it to fit inside the box.
Overall the team is gradually making progress. We are using the lessons we learned from our mistakes last year to better the design and performance of our moon buggy.

Now THAT's an innovative buggy design! Sadly, it's not a GMBR racer; this
"Moonbuggy" was an entry in the "Baltimore Kinetic Sculpture Race" in 2007. But we
like their gumption! (American Visionary Art Museum, Baltimore)
Bringing something new to the competition this year? Let us know — show off photos of your cutting-edge moonbuggy here in the blog and elsewhere on GMBR's Web presence! E-mail your images to richard.l.smith@nasa.gov.