John Stingel, Huntsville Center for Technology computer electronics instructor, is back this week with some proud school history and a little race insight for newcomers. From the GMBR perspective, it's terrific to see an entire school embrace its moonbuggy race team the way HCT does! Does yours? Spread the love! Talk to your advisor about getting a team spotlight into your school paper; try putting your buggy on display for a week outside your cafeteria or auditorium; or work with your school administration to launch "Moonbuggy Appreciation Day" for classmates and faculty to come out and watch you put the vehicle through its paces. We're proud of your hard work and ingenuity; we know your school is too! Here's Mr. Stingel:
Let me tell you a little about HCT. We are part of the Huntsville, Ala., city school system. Our school opened with the 1967-1968 school year. Presently we have 16 teachers teaching 14 different courses or skill areas. We love technology and get involved, as a school, in numerous projects like NASA's Great Moonbuggy Race, the "HUNCH" project — High School Students United with NASA to Create Hardware — and our latest project, designing and building a hovercraft. 
As far as the moonbuggy team is concerned, the true "team honcho" is Mr. White, the Precision Machine Technology instructor. Mr. White takes students from all the other HCT classes, trains them and develops them into a racing team. The building of the moonbuggies is a school-wide project, but all aspects of the design and build come under Mr. White's supervision. My students and I assist Mr. White with the blog and any computer-related tasks.
It is true that HCT has had several amazing racing teams and moonbuggies over the past several years. It is also true that we have worked very hard as a school to accomplish these wins. If Mr. White needs help, or a technical skill not found in the machine shop, he knows he can call on any class, instructor or individual within our school and he will get 100 percent effort.
If you've been around the Great Moonbuggy Race, you know the competition is getting more and more intense. The difference between placing and not placing is seconds. As a result, you must have your racing and design skills highly tuned.
I was talking to Mr. White just last week about our very first Great Moonbuggy Race entry. We knew we had designed a winner. We had a powerful team and a great buggy — we could not lose.  "We had first place in the bag," Mr. White said, "right up until the start of the race." 
That first moonbuggy lasted about three-fourths of the way through the first heat, if that. I must tell you, however — the team carried it to the finish line. We were so wrong about the design of the buggy… but right about the heart of the team.
So get your team and moonbuggy together and come and compete!
Mr. Stingel will be back next week with a spotlight on HCT's moonbuggy team members and their thoughts on the race.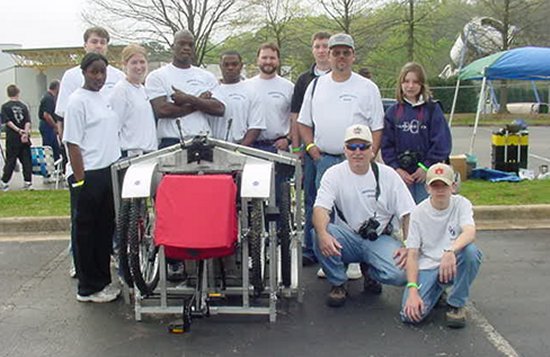 The very first winning team… with its losing moonbuggy! (Photo: HCT)