Here's Lindsay Los with more news and insight from the Carleton University moonbuggy team:
We've had some really exciting developments with the media this week.  After getting some advice from the Media Relations team at Carleton, we managed to get in contact with a couple different TV programs. This led to some chatting with The Discovery Channel and they decided they'd like to get some footage of us doing various moonbuggy tasks! Because they're based out of Toronto, they asked us to film our team members building parts in the machine shop and assembling the buggy. We happily agreed and spent Friday morning filming each other finishing up parts in the machine shop. When we finally completed our work in the shop, we started building the buggy, and eight hours later, it was assembled!  It still isn't 100 percent complete — it's missing pedals and seats, and various other things need to be adjusted, but it was complete enough for a photo shoot with the university publication Carleton Now.
Upcoming highlights include making the seats and our rider tryouts. Andrew Lowe, our Industrial Design team member, will be building the seat mold and vacuum-forming the seats followed by some CNC'ing in the machine shop. Tryouts will consist of a short individual time trial on a stationary bike in our Athletics Center. Hopefully we'll be riding our buggy by the end of next week!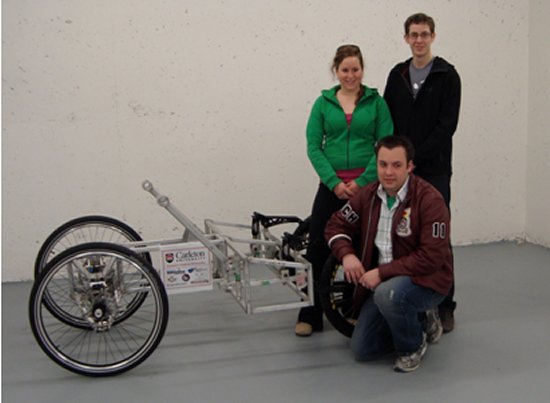 Carleton team members Curtis Parks, front, Lindsay Los and Brian Mattock show off their nearly finished moonbuggy. (Photo courtesy of Carleton University)
Hard at work: Clockwise from top: Team members Rakesh Bharathi, Brian Rutkay, Chris Polowick, Brian Mattock and Ayron Catteau. (Photo courtesy of Carleton University)
Lindsay also cornered her busy teammates with a quick Q&A. Here's Brian and Chris in the interrogation seat:
Brian Mattock, moonbuggy tech manager
Third-year aerospace engineering student
How did you get involved with the Moonbuggy Project?            
I started with the project when it first began here at Carleton. I was young and naïve and was drawn to the glamour of NASA and a trip to Huntsville. I'm glad I got involved — the entire project was one of the coolest things I had done!


What do you do as tech manager?
This year we're trying to move the project in a direction more critical of engineering principles. As tech manager, I'm responsible to take the work from each design team and make sure they did their math properly. I'm also Curtis's right-hand man when it comes to the administrative and financial work.

What's your favorite part of being on the moonbuggy team?
It's hard to pick just one part that I enjoy the most. If the project wasn't as much fun as it is, I probably wouldn't be doing it. But if I really had to pick, it would be seeing the buggy go together. It's especially rewarding to see paper designs become a reality.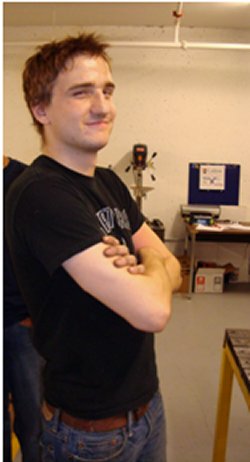 Chris Polowick, team welder/all-around superhero
Third-year aerospace engineering student
How did you get involved in the Moonbuggy Project? 
I was having a conversation with Brian, our tech manager, about how I wished that [our engineering curriculum] had more actual design projects for students. He told me about the moonbuggy team and said he had an opening for someone to design the suspension. I told him I was interested and it just went from there.

What have you liked best about the project?
I've really enjoyed the build so far. I've always liked hands-on projects, and actually seeing our design taking shape has been really exciting.

Is there anything in particular that you are looking forward to?
It's going to be really cool to see it finally completed. When the buggy is finished, and we ride it around for the first time, it will be really exciting. We've all put a lot of hard work into the project so far, and I'm really interested to see how the final product will turn out. Also… winning.
Carleton's moonbuggy team this week held its Comedy Night fundraiser — get in touch with them to talk about how your school can come up with similar ways to raise money for your Huntsville trip!