Thommy Knabe, a three-year veteran of NASA's Great Moonbuggy Race, is the kinematic specialist for the German moonbuggy team, and constructed its first moonbuggy simulator. He and his fellow racers from the German Space Education Institute are enjoying their early arrival in Huntsville for GMBR 2009. He filed this report Monday when he arrived.
It is 4 o'clock in the morning, when my alarm clock rings. The night was short. The other ones of my team flew already on Friday to America. I could not, because I had a written examination in physics that was quite important.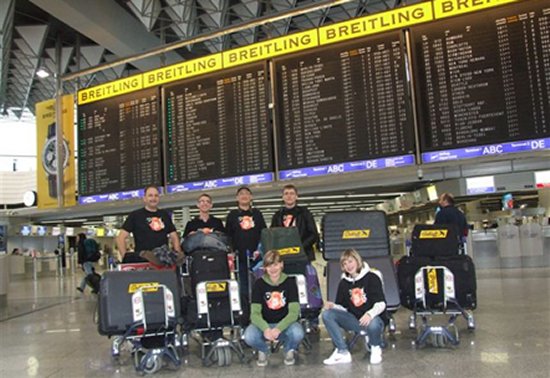 Most of the team from the German Space Education Institute left together
Friday, March 27, for their trip to the United States. Thommy wasn't among
them; exams come first!  (Photo: R. Heckel)
At 5 o'clock I set off with my suitcase and a part of our moonbuggy with the train to Frankfurt. From there it goes via Cincinnati and Atlanta to Huntsville — a journey of more than 6,000 kilometers [3,728 miles] over the Atlantic Ocean. It's not only the long travel time of about 24 hours, but also the bureaucratic hurdles, because of entry to USA and the carrying of metal parts for the moonbuggy race. From Frankfurt it goes for nine hours to Cincinnati. There, you enter the U.S.A. and must indicate with the Homeland Security different questions concerning whereabouts and reasons of the journey.
An hour later I am again in the airplane to Atlanta. It is a smaller airplane with about 100 seats. My baggage arrived well in Cincinnati and it still had to be given up for the connecting flight. On internal American flights the baggage is guided on to the destination automatically. To this point in the journey, all important parts of the moonbuggy are still there.
In Atlanta I have three hours of stay time. The worst thing is that my flight to Huntsville is delayed because of the weather. I am quite tired. Because I slept only two hours last night, I am almost 36 hours awake. As my airplane, again a small one, starts in the direction of Huntsville it's 23.30 [11:30 p.m.] local time. In Germany it is now 4.30 in the morning next day. Because I fly into a new time zone, when I arrive it is still 23.30. The baggage arrived already before me. Ralf fetched it and waits now for me. We talk a little bit, but I am quite tired. So we go by car to the hotel, where the others already sleep.
A hot shower and 10 minutes later I lie in a warm soft bed — still thinking that it is quite crazy to be still in Germany yesterday and now 6,000 kilometers far away in America. I close my eyes. In any case, I am quite glad to have done this challenge alone and without problems.
Congrats on making the trip, Thommy! We'll see you and everyone else at the GMBR opening ceremonies Thursday night.

The team is reunited stateside (that's Thommy front and center). Now to reunite all
the pieces of their moonbuggy, shipped over in multiple suitcases and
packing boxes…  (Photo: R. Heckel)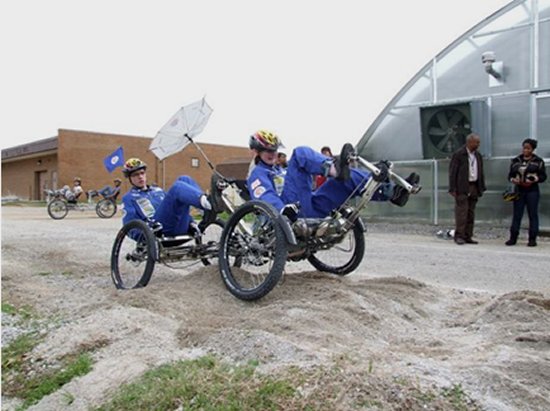 Okay, the buggy's built — what to do before the race? Visit the Huntsville Center
for Technology, of course, and challenge them to a preview of the real
deal! The German team did just that March 30-31. (Photo: R. Heckel)


German moonbuggy team member Anne Geyer introduces her compatriots as they prepare to
assemble their vehicle upon arrival in Huntsville for GMBR 2009. (Video: R. Heckel)