We're welcoming moonbuggy teams to the U.S. Space & Rocket Center today! At last count, we have 92 teams still registered and planning to participate in NASA's 17th annual Great Moonbuggy Race April 9-10. It's going to be the biggest race weekend ever!
And you can watch LIVE on your computer throughout the day Friday! We'll be embedding live race coverage on our Web site — or go straight to our UStream page to keep up with the live video, Twitter feed and Facebook updates!
http://www.ustream.tv/channel/the-great-moonbuggy-race-2010
Then keep up with the rest of the race — and the awards ceremony Saturday evening, via our real-time, track-side Twitterthon! We averaged 220 Tweets per day during last year's race, including course finish times, commentary from racers and audience members, and news updates… With the explosion of teams this year, our fingers will be flying!
Here's 19-year-old German racer Steffi Fleischer of the International Space Education Institute, with some reflections on the last few days and thoughts on the build-up to the race. We're just glad she's all in one piece after "Team Germany's" madcap, speed-record-setting training session in Huntsville earlier this week. They clocked their moonbuggy at 50 mph! Check out the video evidence.
Take it away, Steffi — and we'll see the rest of you tonight at the opening ceremony!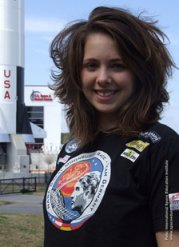 During my first night in America, during the night I can't sleep because I have a headache and I think I'm getting a cold. At 8 o'clock in the morning we meet at the lobby of the hotel and have breakfast together. We eat typical food of America, like bagels, muffins, waffles and orange juice and coffee. After the very sweet breakfast we get together for a briefing.
At 10 a.m. we leave and visit the Space & Rocket Center. After that we make a fotoshooting. With a lot of team spirit and good mood we can take beautiful pictures in the warm sun. Then we visit the Marriott Hotel, where we chill in the swimming pool. Because of the hot weather in Alabama we leave the hotel and go to the Wal-Mart. There we buy something to drink, energy shots for the race, creams and shampoos and my favorite thing — Cosmopolitan magazine.

 The 2010 International Space Education Institute team makes its first
visit to the U.S. Space & Rocket Center in Huntsville. (Photo: Ralf Heckel)
To stop our hungriness we stop by Checker's, a fast food restaurant. There we buy a lot of burgers and pommes — oh no, here they are called "fries," a new vocabulary word for me.
At 2 o'clock in the afternoon we meet Terry, our friendly driver and friend, who visited the Maple Hill Cemetery with us. We visited the grave of Professor Ernst Stuhlinger, also called the "navigator of Wernher von Braun." Then we drive to the grave of Konrad Dannenberg and a lot of other important engineers from Germany who were in the Apollo Project. The graves in America are very beautiful, with a lot of flowers or pictures.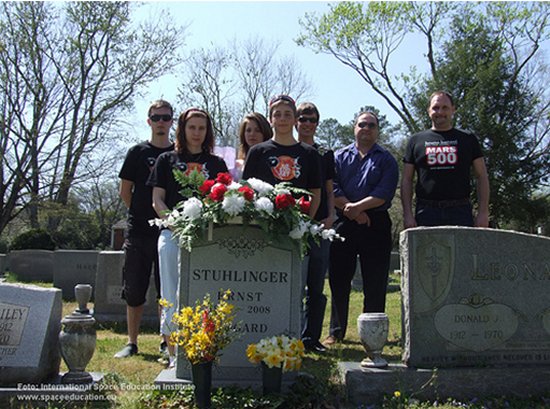 The team paid their respects at the resting places of several German-born
aerospace engineers, among them Ernst Stuhlinger, who helped forge the U.S.
Space Program. (Photo: Ralf Heckel)
After that we drive to several Houses where we get to know the house where other famous scientists live, like the house of Wernher von Braun. After a while we drive to Monte Sano — you can call it "Sauerkrautberg" too, with a lot of buildings from the 1950s and 1960s. Most of the original German engineers who worked in Huntsville got a house there. But that is not all. We drive to the top of the mountain, where Ralf organizes an interview with Brad Huffhines, the weatherman of Channel 31.
In the afternoon we drove all together to the downtown, for taking a walk in the nice park near the Von Braun Civic Center, where we watched a very big picture and a stone of remembrance of the famous scientist.
After dinner we are on the way to the TV station where a lot of people are waiting for us. We all are standing in front of this dark camera, which sees everything and records everything you say and do. So nervous. What will he ask, will I find the right words to answer the questions? How is my hair? I am so frightened of failing on air in Alabama. But Ralf answered the questions like a master and me, I explained about the moonbuggy chassis. I AM ON AMERICAN TV IN ALABAMA.
Later when we arrive at our hotel I was jumping like a four-year-old. When Terry visited us in the hotel it got worse — he made a recording. I see myself on American TV. I cannot stop smiling.
Well done, Steffi and the team from the International Space Education Institute! Log on to UStream Friday and watch the team in action!