The Spartans of Lima Senior High School are checking in again to update us on their progress — and they are PUMPED. We won't be surprised if their cheering section shows up this year with vuvuzelas. When you're packing, guys, just don't forget the buggies!
Here's their latest report…
Lima Senior High School, Lima Ohio
No. of teams in 2011: 2
2010 rank: Finished 14th (Team 1) and 17th (Team 2)
Best score to date: 4th place, 2008, finishing in 7 minutes 23 seconds (Team 2)
Race day is getting closer, Spartan fans! Both buggies are in the final steps of the building process. The seniors have finished shopping for the supplies we will need to fulfill the promise of being "Loud Lima."
"We are going to win the spirit award this year!" said senior Kayla Lowry. "We have been close in the past, but this year we are going full force and leaving everyone else in our dust!"
This year, the teams will be bringing new posters — and some we made last year — down to Alabama. We even are bringing our own megaphone to support the teams! This year, technology coordinator Bryson Tarbet will be pumping up the drivers, as well as the crowd, as the Lima Senior Spartan.
"We decided to bring our own mascot down to Huntsville because we really want to spread Spartan Spirit, and boost the morale of all the competitors," said driver Sarah Koza.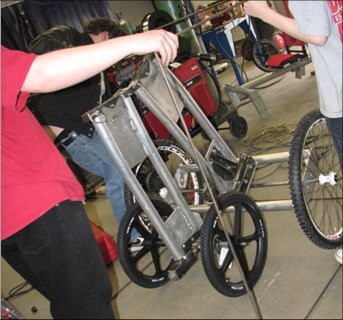 Lima Senior team members test the folding mechanism for
one of heir buggies — a critical component of GMBR, which
requires each buggy to fold, collapse or disassemble into
a 4x4x4 container, just like the original lunar roving
vehicles used on the moon! (Photo: Bryson Tarbet,
Lima Senior High School)

Lima racers, from left, James Luke, Candace Ramage and
Brady Shafer tackle chassis work. (Photo: Bryson Tarbet)
The Lima Senior Moonbuggy Team has been one of the teams that brings the most supporters to the race. This year, along with the current team and parents, we are proud to bring four alumni down to Alabama: Ashton Tarbet, Erika Lowry, Sarah Foltz and Jessica Bradley, all former participants in the NASA Great Moonbuggy Race, will be traveling to Huntsville along with the team.
Both Lima Senior teams want to grant each and every team competing good luck.
"Although we would like to win, we really don't want to see a buggy break, or not complete the course," said Bryson Tarbet. "We all know how much work it is to design, build and test a buggy — we don't like to see anybody's time and efforts wasted."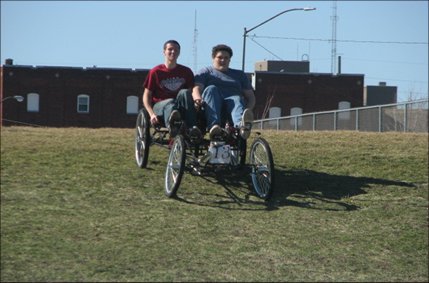 Racers Nick Tarbet, left, and James Luke put a Lima Senior moonbuggy
through its early paces. Helmets, y'all, helmets! (Photo: Bryson Tarbet)
Once again, we would like to invite you to follow us on twitter @LSHMoonbuggy — or follow the Lima Senior Moonbuggy Team on Facebook!
Editor's note: Thanks, Spartans! But remember, even a broken moonbuggy is a learning experience like no other. It just spurs teams to come back and try even harder the following year. If only for the fun of hanging with Loud Lima!